Gus Poyet expects a phone call from referee chief Mike Riley after Wes Brown dismissal
Gus Poyet says that he expects a phone call from referee chief Mike Riley after Wes Brown's dismissal.
Last Updated: 24/11/13 9:22am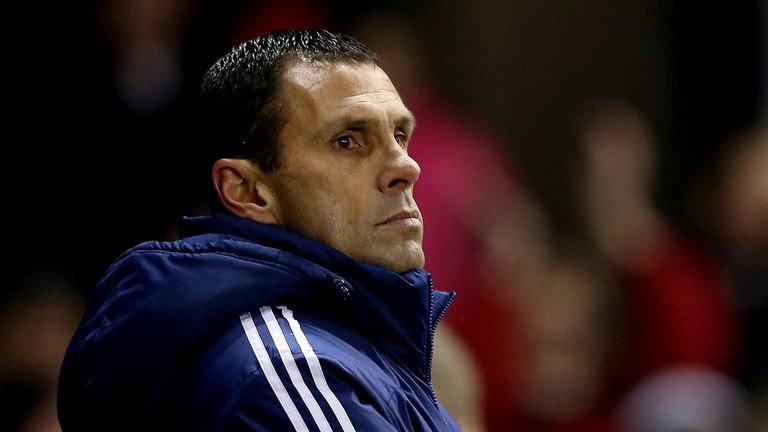 With the score at 1-0, Brown was shown a straight red card for a challenge on Stoke midfielder Charlie Adam.
Speaking to Sky Sports after the game, Poyet says he would like an answer as to why match official, Kevin Friend, arrived at that decision.
Poyet said: "I hope, maybe I am the first foreign manager to get a call this week from Mike Riley.
"I know that Steve Clarke took a call last week. It happened at a key moment when we were trying to come back. We were then put down to ten without explanation.
"If we take every danger out of the game then what do we do? You must then give a penalty for Asmir Begovic's challenge on Steven Fletcher in the second half.
"Brown's wasn't a foul but Begovic's legs were up at chest height with studs. I need someone to explain this to me please."
The incident overshadowed a competitive encounter and Poyet is unsure as to where a line will be drawn.
Poyet added: "So now we say you cannot tackle, you cannot commit? We were losing 1-0 away in a Premier League game in England.
"I'm not going to comment on the referee because I don't want to get fined. Did you see the action? Look at the computer - if you want, we will watch it. If you didn't see it, feel free to do so, from every angle.
"Charlie said he (Brown) touched his shinpad but he kept running - he didn't go down (immediately) and he is not in hospital.
"There is no doubt about it. It was the referee who made the decision and he took three or four seconds to give the foul, which was not even a foul."