Fabio Borini is in the plans of Sunderland boss Gus Poyet
Sunderland boss Gus Poyet says he wants to keep Fabio Borini beyond January.
Last Updated: 29/11/13 9:31am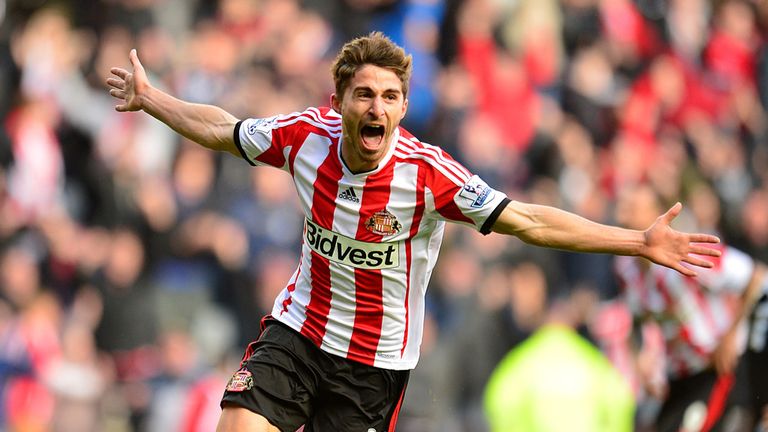 Borini is on a season-long loan from Liverpool, but he has started just two league games in that time, although he did score the winner in the local derby with Newcastle last month.
Borini's agent has claimed that the forward would look at returning to Liverpool in January in order to try and salvage his World Cup ambitions with Italy.
But Poyet insists that they are not thinking about letting him leave and said: 'I would like to talk to him, not agents.
"He is a very important player for us and he has been unlucky because, if there is one player who should have got a bit more from the manager, it is Fabio.
"I've only been here a month and a half so not everything needs to be decided now.
"If I was him I'd be moaning, but he has got great character and we have got a very good relationship.
"Every player wants to play all the time and I'm sure his family are thinking, 'why doesn't the manager play him?' He has done well and is probably the one who has been really unlucky with the situation in games."
Sunderland's Zola
One Italian who is enjoying playing time for Sunderland is Emanuele Giaccherini and Poyet believes he could be their version of Gianfranco Zola, who the Black Cats chief played with during his time at Chelsea.
"The most difficult part of football nowadays is the final third, there are plenty of teams who have an idea and can play the right kind of football," he said.
"But you hear managers say many times that the last pass, the last decision or delivery has let them down. That's where you spend your money.
"You need someone to stand up and give you something special. It's not new. It was always like that.
"When we got close to the box at Chelsea, we gave it to Gianfranco Zola. He would always do something with it.
"That's why he was so good because he would find the final pass, the shot or the runner. That's quality. We're trying to get Giaccherini to do that for us.
"We've seen him play for Italy and the position he played (in last week's 2-2 draw against Nigeria) where he linked things.
"We can improve as a team to use the characteristics of the players. It's a possibility to play him in the middle, depending how we play."