Sunderland boss Gus Poyet seeks away form improvement ahead of Aston Villa game
Sunderland boss Gus Poyet has called on his side to start replicating their home form when they play away.
Last Updated: 29/11/13 1:55pm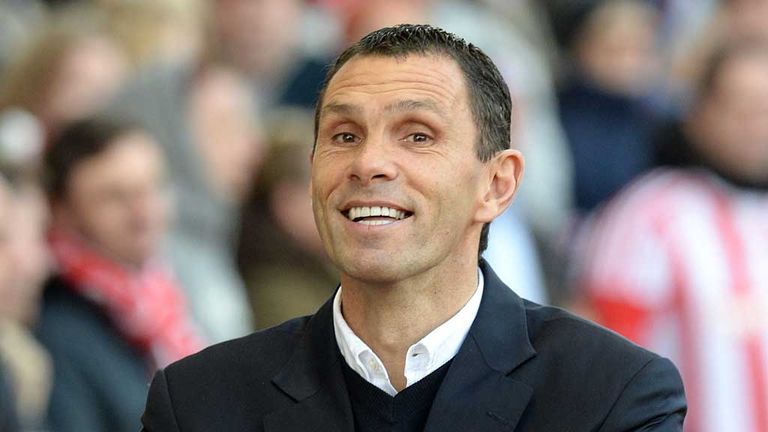 The Black Cats have beaten Manchester City and Newcastle in successive games on their own ground but have lost all three away fixtures under Poyet.
In those games, they also scored three own goals and had three players sent off, although the red card shown to Wes Brown at Stoke last week has been rescinded.
"I know that our last three away games were incredible," said Poyet. "I try not to think too much about bad luck but when you get so many own goals and sendings-off it makes it difficult.
"So far I'm not worried but sometimes when you're down at the bottom and think you're doing well, you get a hammer in the head that brings you back down.
"We need to make sure we turn our away form into wins and prove we can get back with the other teams in the mix. All I am asking for is a normal game with no incidents."
Poyet has stressed the emphasis on discipline at Villa Park this weekend but is reluctant to lay down the law to his squad as he encourages them to stay strong in the challenge.
Brown's sending-off followed the double dismissals of Lee Cattermole and Andrea Dossena the previous week at Hull and, while that hindered Sunderland, Poyet knows his team have to remain competitive.
Poyet said: "One of the first things a manager says to his players is to stay on the pitch and keep it 11 versus 11.
"We need to give it careful attention without forgetting that you need to compete, you need to be strong and you need to tackle. It's a balance and at the moment we can't find the right balance.
"I want to have that feeling that we've done everything we can to compete. We need to be stronger and better. I wish we could have played this game earlier in order that we could get last week out of our system."