Sunderland midfielder Lee Cattermole wants to move on after his latest suspension
Sunderland midfielder Lee Cattermole wants to reclaim his place after accepting the blame for his latest suspension.
Last Updated: 11/12/13 3:12pm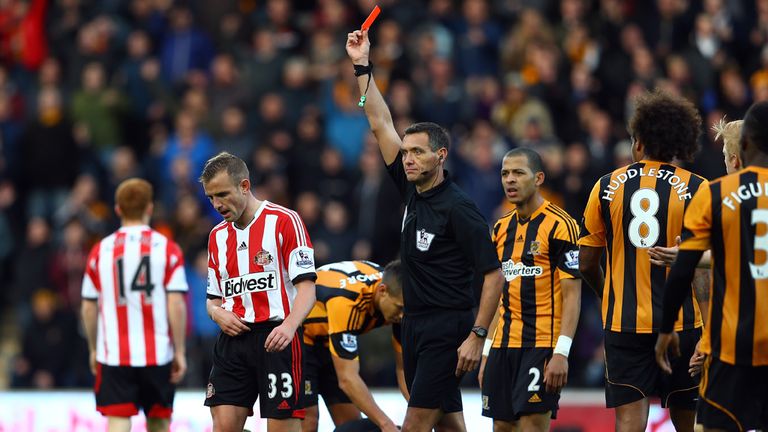 Cattermole received his eighth career red card against Hull City last month, but is looking to be more controlled in the future.
He returned from his ban as a substitute against Tottenham on Saturday and is determined to keep out of trouble.
"I've only got myself to blame after getting sent off," said Cattermole in the Sunderland Echo. "I gave the referee a chance to give me a red card.
"I was a bit disappointed. I thought there's a lot of other tackles I've seen throughout the season which were worse than that.
"But it's done now. I want to put it behind me, move on and hopefully it won't happen again.
"It's such a fine line now. I'd hardly made a foul all season and thought I'd cracked it, but you mistime one, see yourself walking and you think 'I didn't see that coming'. I thought I was a million miles from that.
"I didn't need to read anything about what anyone said after the game or what pundits said, because I knew myself how disappointed I was to get sent off.
"But I'll have to come back from it.
"I believe I play the right way - fully committed - and that time I maybe went a little bit over the mark.
"Maybe you have to stay on your feet, it's that one that gets away from you when you have to lunge."
Having been left out by former manager Paolo di Canio, he had started regularly under Gus Poyet before being sent off.
Poyet has recently used Ki Sung-Yueng in the defensive midfield role and Cattermole is ready to fight for his place.
"I came back in the team and felt I was playing well and ended up getting sent off," added Cattermole.
"But I've been here before. I know what I've got to do and I'm ready to play now."