Premier League: Sunderland boss Gus Poyet not enjoying relegation battle
Boss Gus Poyet admits he is not enjoying Sunderland's battle against relegation.
Last Updated: 14/12/13 8:03am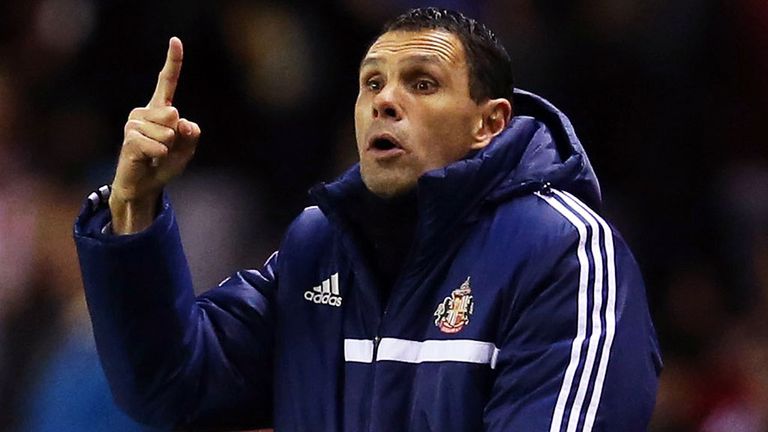 Sunderland's 2-1 defeat to Tottenham last week left them bottom of the Premier League table.
Poyet and his players will resume their survival battle at West Ham on Saturday with some of their own supporters believing their fate is already sealed.
The manager does not agree but he admits they have to start winning soon.
Asked if he had ever experienced anything like the Black Cats' current plight, Poyet said: "No. But I accepted the challenge and now I am not going to hide. I have got no problems.
"Is it enjoyable? No, I can tell you it's not, but I don't think everybody gets a job and tries to enjoy the job.
"That's a dream job. That's what I have said to the players: You want to play football? Yes. You want to earn money? Yes. Have you got a lovely place to train? Yes. Then you are lucky because you are enjoying your life.
"But at the moment, no, I am not really enjoying my life. But it's the way it is. I am trying to make sure I can enjoy it in a few weeks' time, that would be nice.
"To be honest, the game where I thought there was pressure was Newcastle at home. Eight games in the table, no wins and you play your biggest rival - that's pressure.
"This is football. Sometimes we - me in particular - take it to a level of craziness where it shouldn't be like that because it's a game.
"We can win 20 games now and somebody will go down, but I suppose from that team, nobody will die. Sometimes we think if it's us, we are going to die, but that's the way we are.
"We need to control the emotions, be realistic and accept the challenge, but at the same time not go over the line because if not, somebody will die, will have a heart attack and it will be a shame."
Opposite number Sam Allardyce has had heart problems in the past, and Poyet admits that level of tension is the lot of the modern football manager.
He said: "It's how we are, how we live football and how much we like to win football games and how much we care. We are different characters. That's the way we are, we cannot change."