Premier League: Sunderland goalkeeper calls for resilience at the Stadium of Light
Vito Mannone has told his team-mates not to "give up the fight" despite Sunderland being bottom of the Premier League.
Last Updated: 27/12/13 6:33am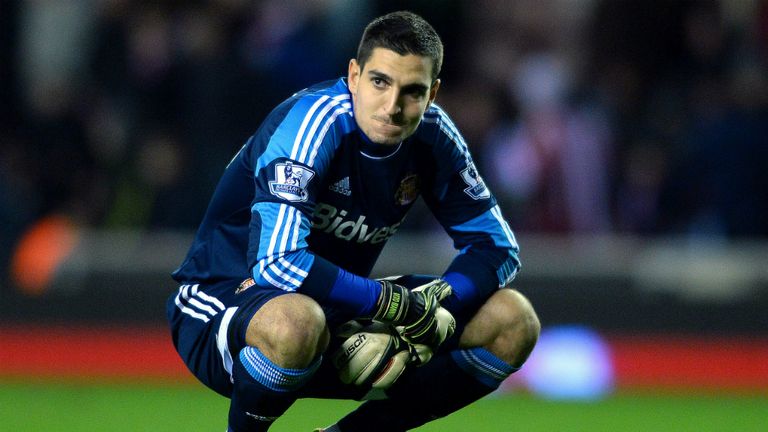 The Black Cats squandered the opportunity to register their first top-flight win in six games on Saturday when they played out a goalless stalemate with Norwich City.
With a testing trip to Goodison Park to face fourth-placed Everton on Boxing Day, Sunderland will be left ruing the chance to edge closer to safety.
However, despite being at the bottom of the table and four points adrift of safety this Christmas, Mannone believes Sunderland must find faith.
Speaking to the Sunderland Echo, he said: "You need to keep believing because that's what takes you out.
"We beat Man City, Newcastle and Chelsea, so I don't see why we should give up the fight.
"We've got another game on Thursday, so we'll roll our sleeves up against another big team in Everton.
"We'll keep putting the full effort in. We might not win against Norwich, but we might win against Everton. You never know."
Everton moved into the top four on Sunday with a 2-1 win over Swansea at the Liberty Stadium but Mannone is confident Sunderland can manage the Toffees' threat.
Disappointment
"It's a big game, but we've shown we can play against team like that," he added. "We know what we need to do.
"But every game is a final. It was before, but even more so now.
"If you're not winning games like Norwich at home, then you're giving yourself a big task in the next game, and the next one, and the next one.
"It's a big disappointment because we are better than that and we didn't show it. It wasn't enough."
Without the efforts of Mannone, the outcome could have been worse against Norwich, with the summer signing from Arsenal making a string of impressive saves.
Despite keeping Sunderland in the game, the Italian was quick to admit the collective failings at the Stadium of Light, only days after triumphing over Chelsea in the Capital One Cup quarter-final.
"I think we're all in the same ship," Mannone said.
"I tried my best to keep the team in the game, but, at the end of the game, I'm a loser because we didn't win.
"It's a draw, but it feels like a big loss. I'm taking responsibility as well. I'm on the pitch and we all have to do better for ourselves.
"We need to be better than that to come out of this situation because otherwise we're all going down - us, the fans, the club, everybody."