Capital One Cup: Gus Poyet looking for Sunderland to be more consistent
Gus Poyet has called on cup specialists Sunderland to start adding more consistency to their game.
Last Updated: 07/01/14 7:20pm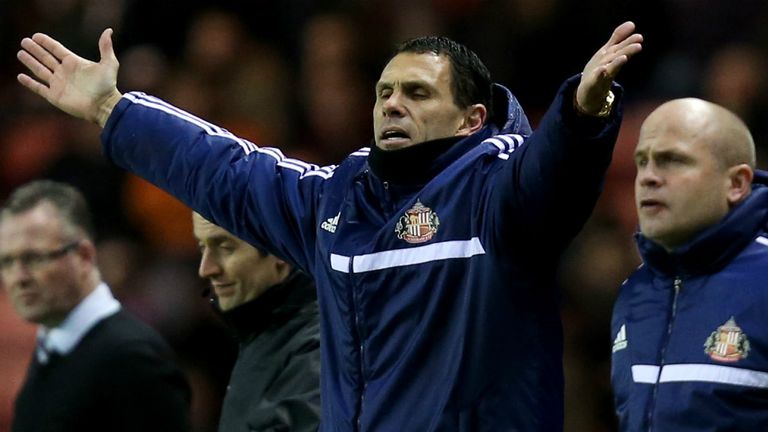 The Black Cats host Manchester United in the first leg of their Capital One Cup semi-final on Tuesday, 48 hours after securing a safe passage into the fourth round of the FA Cup.
Their exploits in knockout competition stand in stark contrast to their league struggles, with four points separating them from safety at the foot of the Premier League table.
Poyet is hoping the form gap can be bridged over the coming weeks, with the Uruguayan urging his players to show mental toughness and prove that they are capable of being competitive on multiple fronts.
He said in The Independent: "It could be that there is no pressure on the players.
"The players are relaxed. It's a cup game against a top team and it looks like - not for me - that if you lose, nothing happens. For me, if you lose, you are not a winner. You're a loser, but it could be that it brings something different to the players, not as individuals, but as a group. If it continues, great, we are in a cup final.
"If you are playing Chelsea in the league and it is 1-1, how many of the players would take a draw? But in the cup, you must win.
"I keep saying this, but more and more in football it's the mental side of things that's most important. Fitness, the difference is not a lot. Technically, they're very similar. But mentally, taking decisions, that is the difference.
"Why is there a difference between our league form and the cup games? Ask me tomorrow. We will have a better idea after that.
"Me, I played for a Chelsea team that won cups, but we never won the league. That doesn't mean that we weren't playing the same way or trying the same. We were a cup team.
"It is very difficult to win the league, but something was missing: consistency. And that is definitely one of the things that's missing here, without a doubt.
"We won a few times in the cup and then, the next game, when everybody expects us to win, something happens."