Transfer news: Sunderland goalkeeper Vito Mannone ignoring Man Utd speculation
Vito Mannone has played down speculation linking him with Man Utd as Sunderland target the Capital One Cup final.
Last Updated: 22/01/14 9:09pm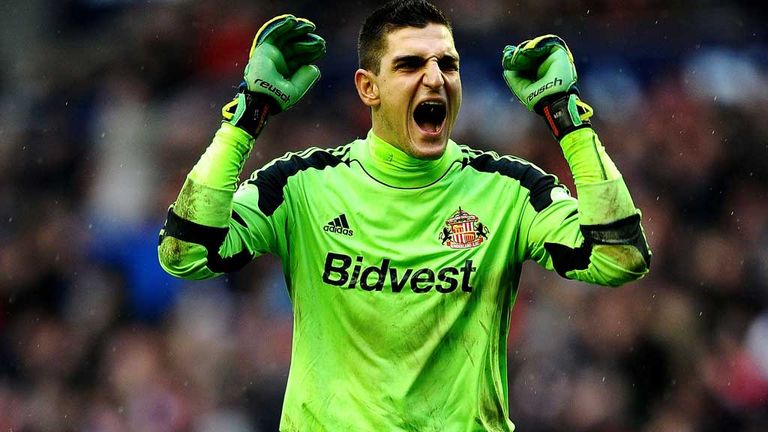 Mannone has impressed since joining the Black Cats last summer from Arsenal and has even been linked with Wednesday's opponents, with David Moyes reported to be interested in him as a back-up to David De Gea.
But he will line up against United in the second-leg of their semi-final clash at Old Trafford on Wednesday looking to deal the Premier League champions yet another blow in a transitional season of struggles.
Sunderland won the first leg 2-1 on home soil and, for now, Mannone's only focus is on a chance to help them into a Wembley final.
When asked about the transfer speculation, he said: "I don't really care about this stuff.
"It's stuff that happens outside of the football pitch. My concentration is on the football pitch and it was on this game.
"Now we have got another massive game. I am really living my best time right now at Sunderland and I don't see why I would move right now.
"I want to stay as first choice and I want my performances to improve. That's the only aim I have, apart from aiming to beat Manchester United.
"That's the only focus I have on Manchester United."
Mannone made a number of key saves in Saturday's 2-2 draw with Southampton and he feels his side showed exactly the resilience they will need over the rest of the season as they battled back strongly from a 2-0 deficit.
He added: "We have changed our whole mentality. Even when we are down, at least we compete.
"It's a great point. The way it started wasn't the best for us. The first half, each one of us didn't play at the standard, and against a good team like Southampton, you go down 2-0.
"At least then we came up again in full gear and we came back into the game and could even have won it, to be honest.
"We put pressure on them, as they did on us in the first half, and as you could see, a good team like Southampton was struggling with our pressure."