Premier League: Former Sunderland boss Paolo Di Canio hits back at Black Cats players
Former Sunderland boss Paolo Di Canio has labelled Lee Cattermole and Phil Bardsley "rotten".
Last Updated: 27/01/14 9:02am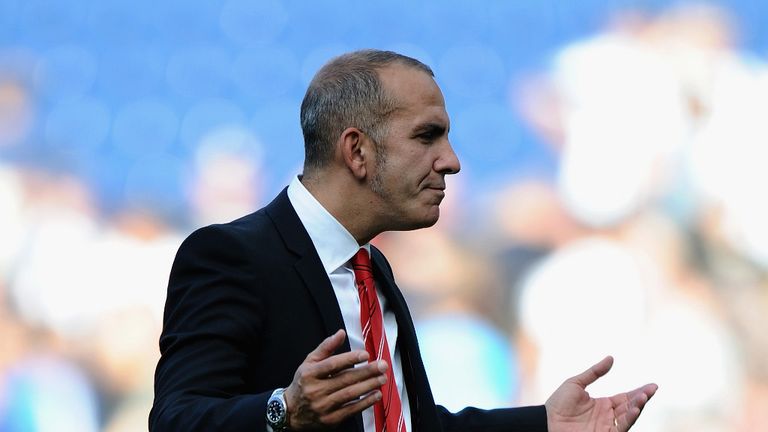 Di Canio, who was sacked by Sunderland in September with the club bottom of the Premier League, has lashed out at a host of Black Cats players branding them "unprofessional".
Cattermole and Bardsley have become key players during the Wearside outfit's recent revival under Gus Poyet, but Di Canio has little time for them.
The 45-year-old said in The Sun on Sunday: "These two players (Cattermole and Bardsley) were rotten - the most unprofessional players I've ever worked with.
"What Bardsley has done in the last year speaks volumes. Photos of him lying on the floor in a casino covered by £50 notes and laughing at the team losing on the opening day, that's public.
"It's no surprise these players were kicked out of my plans. The reason Sunderland stayed up at the end of last season was because Cattermole was injured and Bardsley played very little."
Di Canio was also critical of central defender O'Shea and admitted that "two-faced" was not too strong a term for the former Manchester United man.
"I don't like people who, when they speak to you, don't look into your eyes," added the Italian.
"He should say sorry to some of his team-mates for the many times he came into my office to say something unfavourable about them.
"This is the same person that also came to me when I first took over and said things about (Martin) O'Neill."
Steven Fletcher also came under fire from Di Canio after the Scotland striker suggested he wasn't able to laugh or smile in training.
Di Canio said: "This is a man who was filmed spitting on the back of a rickshaw driver in London. What sort of role model is that, who behaves like this?
"I don't like people fooling around when we're having a serious discussion about strategy. I don't like people who laugh when they keep missing the goal in training or miss a tackle that leads to conceding a goal."
Di Canio also claimed that he had the support of the majority of the players in his time on Wearside and that it was only a minority who wanted him out.
"On my phone, I have 14 text messages from players at the club supporting me," claimed the former Swindon boss."
"Speak to the majority of players who have worked with me and they'll say 'it was tough working for Paolo, but he was professional'."