Premier League: Sunderland boss Gus Poyet glad to see the back of Hull after two defeats
Sunderland manager Gus Poyet is thankful that his side do not have to play Hull again this season.
Last Updated: 09/02/14 2:21pm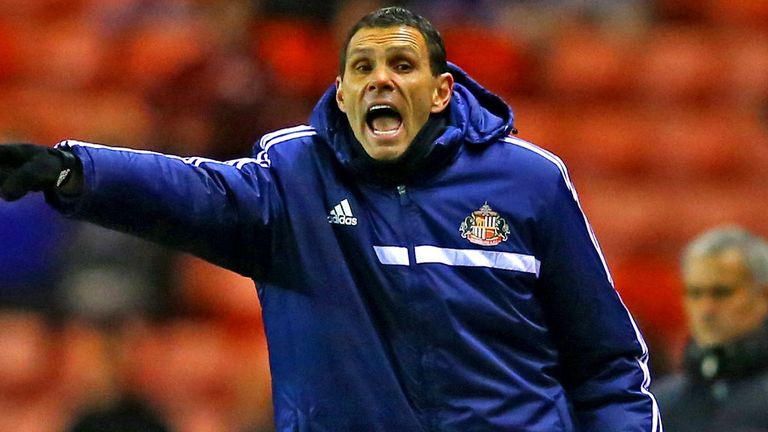 The Black Cats' recent revival stalled at the Stadium of Light on Saturday as they slumped to a 2-0 defeat, playing 86 minutes with 10 men following Wes Brown's early dismissal.
Poyet's third game at the helm in November was painfully similar, with Lee Cattermole and Andrea Dossena both sent off in the first half at the KC Stadium as Hull clinched a 1-0 win.
"It wasn't to be. It was one of those days when it doesn't matter how you play or what you do because something will happen and go against you," said Poyet.
"I'm very pleased that we don't play Hull any more this season because every time we play them, something happens."
Brown was issued a straight red card for scything down Shane Long on the edge of the box following Phil Bardsley's poor back pass, and Poyet added: "It was a little bit of bad play plus a decision.
"In modern football now, sometimes I don't know if it is better to allow the opposition player to have a shot.
"We would be losing 1-0, but it would be 11 v 11 with 87 minutes to play.
"It's easy to say; it's very difficult to do it when you are on the pitch and you are trying to stop the opposition from scoring, so I have nothing to say to Wes.
"He did what was needed at that time. Unfortunately, it was late and it was a sending-off.
"We can talk about how (Hull) planned the game or how they wanted to play, but at the end of the day, they won the game because Wes Brown got sent off, that's the bottom line.
"For five or six games, they couldn't win before this one, so something went for them.
"That can happen on Wednesday, it can happen in two weeks' time for us, I suppose. It's not always against."