Adam Johnson says he is starting to achieve what he wanted at Sunderland
Adam Johnson feels he is finally achieving at Sunderland what he hoped for when leaving Manchester City.
By Graeme Bailey - Tweet me: @graemebailey
Last Updated: 14/02/14 11:04am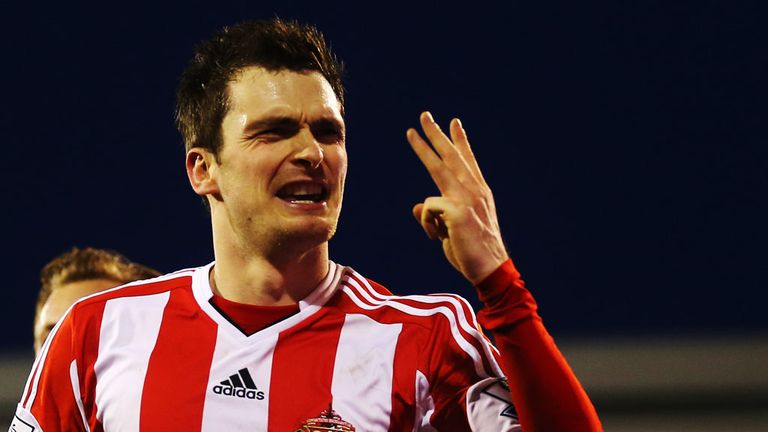 The former Middlesbrough winger is enjoying his best form since returning to the North East with Sunderland in 2012.
"I left City for the sake of my career. I'd won the FA Cup and the Premier League, I wanted to do something else," Johnson told the Daily Telegraph.
"It's taken me some time for me to get into a place where I'm able to play like I wanted, but I feel I'm there now.
"This is the best period I've had in my career, it sort of came from nowhere but I think it's a result of everything I'd been through previously.
"I said I need to forget about 2013, it was an awful year. That was the best thing I could have done. They say sometimes you have to take a step backwards to go two forward."
Johnson is now pushing hard for an England recall, having never been able to add to his tally of 11 caps since leaving Manchester City.
"I've not spoken to Roy (Hodgson), but I'd love a phone call. I probably wouldn't recognise his number if he rang me because it's been so long," he said.
"If I can't make this one, then I'm never going to make one. Until I see the squad, though, I don't know. If I'm not in this one, I'll plan my holiday."
Johnson admits his form before now has not been good enough.
"I think people were right to question my hunger last year," he said.
Frustrated
"I think that's fair. I was desperate to prove myself here, but when it didn't work out, I lost it.
"It was the first time I'd gone through a spell like it. I was at a club that won all the time and I got stuck in a rut in a team that was struggling a bit.
"I didn't realise it had happened, but looking back it did. There were days when I just wasn't motivated. I wasn't myself. I was extremely frustrated. I couldn't get my head around it, but it has definitely made me a better player. I've learnt new things from difficult experiences. I'm out the other side.
"I don't know why I lost form, I still can't put my finger on it. I can't really put my finger on why it has come back. Things didn't come off, I kept trying to do the things I'd always done, but you lose the ball a couple of times and your confidence goes. I spent a few months doubting my decision to come here.
"But I wanted to come here and play every week and have that pressure of expectation. I didn't want to be a good player in a world-class team, I wanted to be a good player in a good team who was expected to win games for the team."
Johnson admits that he does not regret joining City, but would be worried about any young English players doing the same in the future.
"It went really well at first, I had some great times, but at a club like that it's dog eat dog. As soon as someone new comes in they play and they have the ability to buy superstar players every summer," he said.
"It wasn't like it is now. They were just emerging, but now they can pretty much sign any player they want. If you're a young English player, if you're in the academy there, you'll struggle to get any sort of chance. You'd have to be exceptional, you'd have to be a Wayne Rooney. He's the only one I think of who would have got a chance when he was young.
"Look at [Jack] Rodwell and [Scott] Sinclair. It's not a coincidence they have fallen away. Man City will sign the elite players in every position. I wouldn't sign for them now if I was a young English player.
"There is a temptation, of course. The wages, you're flattered when City are after you, but you'll go there and be third choice. When I was there, I was always the one who would be dropped when the manager [Roberto Mancini] rotated the team."