Transfer News: Jack Colback keen to agree new deal with Sunderland
Sunderland midfielder Jack Colback says talks over a new deal are "ongoing" but insists he is "settled" on Wearside.
Last Updated: 27/02/14 9:35am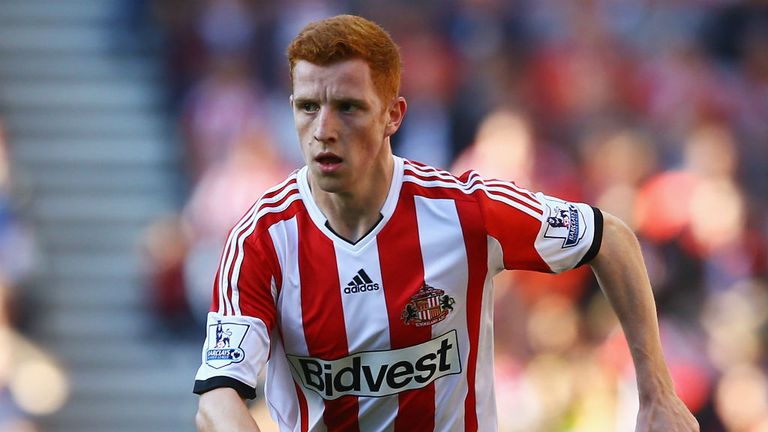 Colback has thrived under Gus Poyet, since the Uruguayan took charge and was the Man of the Match in the recent Tyne-Wear derby triumph at Newcastle.
The 24-year-old's current contract expires at the end of the season - meaning he could depart the club on a free transfer.
Barring a stint with Middlesbrough as a youngster, Colback has spent his entire career with Sunderland, and insists he wants to stay.
"Talks are ongoing. It takes time and with the position we've been in, it's been difficult at times because obviously the team is the focal point and comes to the forefront," he told the Northern Echo.
"It's something I've completely put to the back of my mind with the final coming up, I'm concentrating on that.
"But I enjoy playing for the new manager. It's home here. I am settled, my family are settled, so hopefully we can get something sorted."
Tyneside-born Colback revealed his path to Sunderland came via another North East club.
"I first went on trial at Middlesbrough and trained there for a while but the travelling was a bit too far and I felt I was a bit too young at the time aged eight or nine," he said.
"I came to Sunderland initially at that age but I thought I was still a bit too young. I came back to Sunderland a second time and felt it was the right time to do so. I'd just turned 11 when I came back.
"As players it's your job, isn't it, to treat the club you play for as your club, it doesn't matter where you're from, it's your job to go out on the pitch and play as well as you can for whoever you play for and that's what I do."
Wembley
Colback is now in line to make his first ever Wembley appearance on Sunday as he hopes to help Sunderland to their first piece of silverware since the FA Cup in 1973 as they take on Manchester City in the Capital One Cup final.
"It would be massive if we won a trophy. The fans have got memories for 1973, the number 1973 is everywhere around the academy and the Stadium of Light. We are reminded of it every day," he said.
"At every club there's a pressure of winning something, even at the likes of Man City or Arsenal. Their fans get to watch good football every week, but they're still desperate for a trophy.
"It's not often an opportunity like this comes along so we'll be absolutely buzzing if we win it."