Sunderland's Fabio Borini hoping to return to Wembley in the FA Cup
Fabio Borini suffered Capital One Cup agony with Sunderland, but hopes he will soon be back at Wembley in the FA Cup.
Last Updated: 09/03/14 1:06pm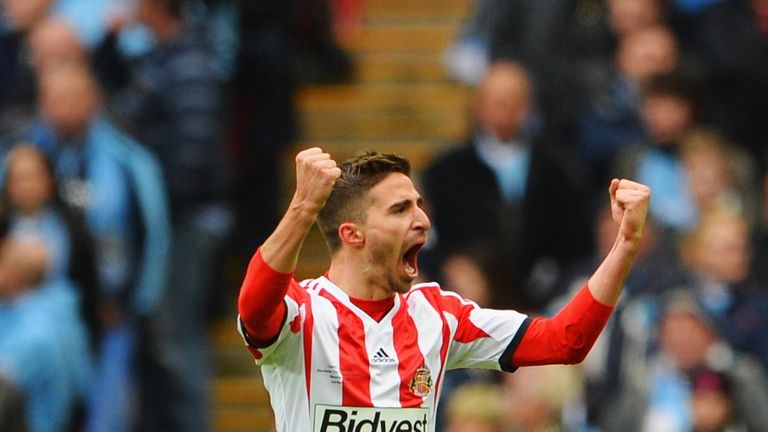 The Italian frontman opened the scoring in Sunday's final, only to see Manchester City find the target three times in the second half to claim the first major silverware of the season.
Borini, on loan at Sunderland from Liverpool, is refusing to dwell on a missed opportunity and has already turned his attention to future challenges.
The Black Cats remain in contention for FA Cup glory, having reached the quarter-final stage, and victory over Hull City in their next outing on Sunday would see them planning another trip to the capital.
Borini told the Sunderland Echo: "I want to go back there, to be at Wembley. Scoring at Wembley is always special, especially for a foreign player.
"If we can win against Hull, we'll be going back again, which will be good. But the main thing is to get points and start pushing up the league.
"We've seen what it's all about and hopefully we can push on now in the league."
Borini believes that Sunderland can take plenty of heart from their showing against City, with it important that they do not allow confidence to dip as they chase further cup success and aim to secure their Premier League future.
He added: "There were plenty of positives on the pitch. The only negative is the result.
"We were disappointed, but proud of what we did on the pitch.
"We made Man City win the game and they had to score two incredible goals, which is why they are Man City.
"It was a great team performance in the first half.
"Man City came out with the qualities, that's normal. But the feeling to be in front and have a real chance to win it was unbelievable. That's what we need to take with us for the rest of the season."