Premier League: Gus Poyet would have quit Sunderland if he feared they could not stay up
Head coach Gus Poyet would walk away from Sunderland if he feared the club could not beat the drop.
Last Updated: 13/03/14 7:23pm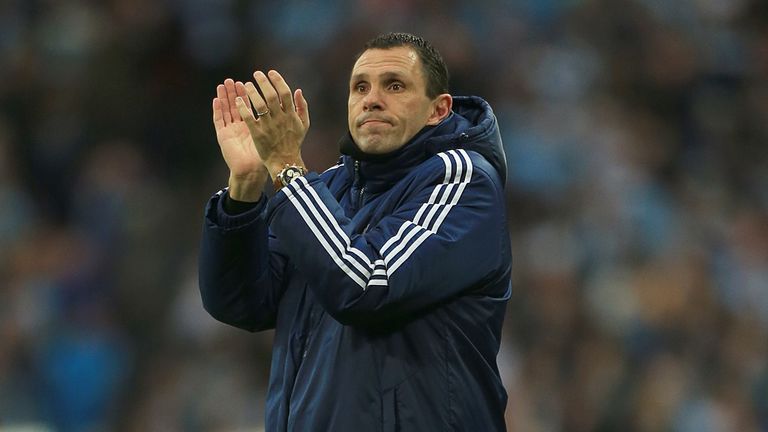 Sunderland have improved steadily since Poyet took charge in October, picking up some much-needed Premier League wins and advancing to the final of the Capital One Cup.
The Black Cats were beaten by Manchester City at Wembley and last weekend's FA Cup quarter-final defeat by Hull meant they could concentrate on the league.
There are 12 games remaining for Sunderland, who are one point adrift of safety, and Poyet insists he would quit if he doubted his ability to rescue the club.
"That's why I am here. If not, I would be gone, I can promise you that. I wouldn't stay here if I was not convinced it was possible," he said.
"I am not that type of person that would just lie to myself and lie to people, 'Yes, yes, yes, it's possible'.
"Maybe I am making a mistake, who knows? But again, I believe it's possible because these 19 games I have been in charge have proved to me - we have taken 23 points - it's possible.
"If we take 13, 14 points [from the remaining 12 games], it's going to be close to that 40, 37, 38, 39 - who knows?"
Sunderland claimed just one point from their first 21 games and Poyet admits he faced an 'almost impossible' task of steering them to safety.
But the club will give their survival chances a major boost if they defeat drop rivals Crystal Palace at the Stadium of Light on Saturday.
"If you said to me on October 8 when I walked in here at 11.45pm for the first time that I was going to be in this situation with 12 games to go, I would have taken it, I would have," added the former Brighton manager.
"I would have for sure because it was looking impossible, so now I am here, I am not going to complain and moan.
"I am taking it and making sure we maintain the level of performance that we have had in the last three months and if we maintain that, I think we have got a great chance to stay up."