Premier League: Sunderland boss Gus Poyet is aiming for the 40-point mark
Sunderland boss Gus Poyet is aiming for the 40-point mark to ensure Premier League survival this season.
Last Updated: 14/03/14 2:18pm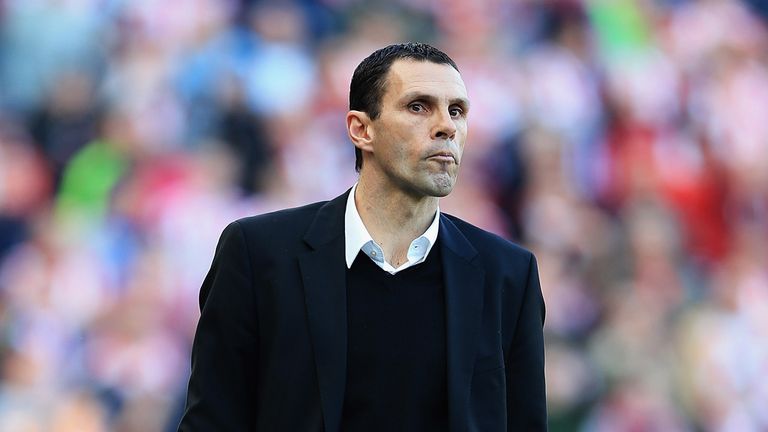 Sunderland are currently 19th place in the table, but are only a point adrift of safety and have at least two games in hand on all their closest rivals.
Poyet is refusing to immerse himself in the business of trying to work out the various permutations but is aiming to hit the generally accepted safety mark of 40 points.
He said: "Last week, I was with a few people talking about it and the week before, and you talk to the managers and maybe they check more than me who is playing against who, who can win and if they win this...
"I don't do that. I cannot kill myself mentally to think if it's 40, 39, 38, 37 (points needed)... I don't know.
"Me, I always believe that the closer you get to 40, the more chance you have of staying up. Then if there are three teams who don't reach 30, great, we need 31."
Sunderland's home form may prove to be key with four of their six remaining opponents on Wearside - Crystal Palace, Cardiff, Swansea and West Brom - all in the bottom seven.
With next week's opponents Norwich, who the Black Cats face at Carrow Road next weekend, also among that group, those fixtures appear to represent the best chase of picking up the points they need.
Poyet said: "That's it on paper. I would take any five, to be honest, but of course I would take the five that we play against the teams at the bottom because it would mean they don't take any points.
"One by one, simple. This one is the most important one. Make sure that you win this one, and then we will see in the next one how we are going to play and I am going to analyse Norwich and blah, blah, blah.
"But now, it's Palace, only Palace. There are games that are always important, and there are games you know you have a chance to win.
"But of course, when you are down at the bottom and you are so close too each other, you need to make the difference, and this is one of them."
Poyet also admitted that he is starting to feel the pressure but is hoping it will all be worthwhile at the end of the season.
He said: "After the games is the worst. Before the games, I just need to be convinced most of the time - I'm not saying all the time - that we have done everything possible to prepare the team.
"After the games, especially after the bad ones, I am not the best person to be around that night.
"It's because we care, because we suffer, because we hate losing and because we are making sure everything we believe in - and which has been working to some point - is going to finish well and we are going to have a very good summer. We will keep going."