Premier League: Gus Poyet pleased with Sunderland's effort in 0-0 draw with Crystal Palace
Sunderland boss Gus Poyet insists his side could not have put any more into their goalless draw with Crystal Palace.
Last Updated: 15/03/14 6:26pm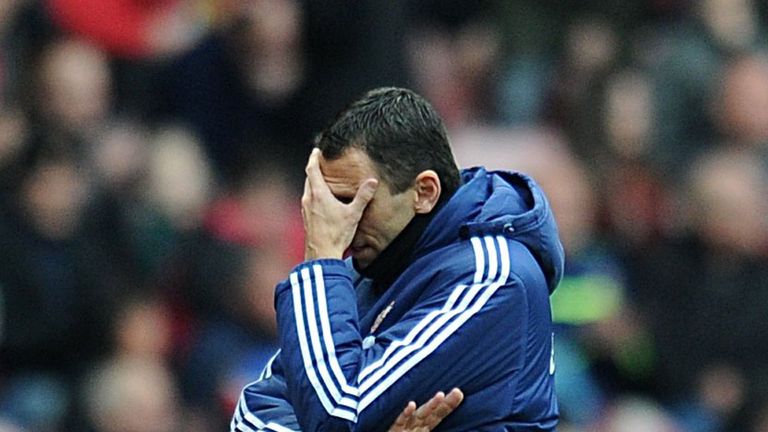 Fabio Borini came closest to breaking the deadlock as he hit the woodwork late on, but Sunderland just could not find a way through a well-marshalled Palace back-line.
"We tried everything, that is all we could do - that is the team we have, these are the players we have, that is how we can play, and only the future will tell if we are good enough to stay in this league," said Poyet.
"That is the way to perform, to take the game to the opposition, to be in control to try crosses, free-kicks, shots, in-behind, one-twos - but to score is the most difficult part of the game and the opposition play a part.
"They have a plan - a very respectable plan - and today we could not score, but I am calm today because the players gave everything they had for this club and the fans.
"In other games we were in control without having too many shots, crosses and without threatening the opposition but today we tried everything we could - perhaps too much."
The point sees Sunderland move up one place to 18th, but Poyet cannot see much changing at the bottom until the final run-in to the season.
"Nothing will change, unless there is a big surprise, it is going to be tight," added Poyet.
"It could be one goal, the difference between staying up and going down - but this is March, and we know what it takes.
"It is not going to be easy but if we try like today and fight like today we have a better chance, that is for sure.
"I am trying to be and I want to be a Premier League manager, and I don't think about anything else other than staying up."
Poyet was delighted with Liverpool loan ace Borini, and he admits he would love to keep him at the club.
"He is going to be important. If we stay in the Premier League I would keep him, as he is very welcome here and the fans like him.
"Fabio is the perfect character to have in a group of players, professional, he cares, he gives everything - the perfect professional."