Lee Cattermole happy to have stayed at Sunderland and full of praise for Gus Poyet
Lee Cattermole has expressed his relief that he stayed at Sunderland in January and has praised boss Gus Poyet.
Last Updated: 19/03/14 2:39pm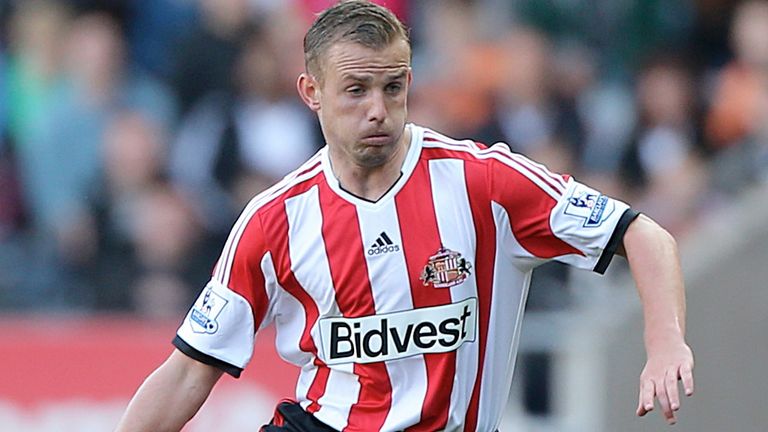 Stoke City were interested in a move for the midfielder and reports on deadline day suggested a deal was close to being completed, but Cattermole did not go anywhere and he is enjoying life more than ever at the Stadium of Light.
The 25-year-old has particularly liked working under Poyet and believes he is going through one of the best phases of his career, although he acknowledges that the most important thing for Sunderland is to pull clear of trouble.
"I feel as though I'm not far off producing some of my best ever football," he said in the Sunderland Echo.
"And I just hope that people don't feel all the good work I did against Southampton and in the cup final and in the first half against Hull has been thrown away because of an error or two in the second half against Hull when we were chasing it.
"I'm working as hard as I can on the training pitch.
"I feel as though I've learned more in the last four or five months on a new approach to the game, than I've learned in the majority of my professional career.
"I'm enjoying it and I've told the manager that. I think we're playing some really good football and I'm looking forward to it continuing.
"I'm hoping to get a chance to be involved as much as possible in games and to keep on learning.
"The most important thing is for us all to get what we want from these remaining games and keep Sunderland Football Club in the Premier League but I'm convinced that if we do that then next season could be a really good one for us."
Reflecting on how close he came to joining Stoke in the winter, Cattermole thanked Poyet and chairman Ellis Short for deciding to keep him.
"Obviously there was an interest there at the time," said Cattermole. "It had been talked about for several weeks, though I'd heard nothing.
"And then on the last day of the window news came of Stoke's interest.
"It all felt a bit rushed to me and I had a good chat to the manager - he told me he didn't want me to go and I told him I didn't want to go.
"So then it was only going to be a case of whether those higher up wanted it to happen - it was out of our hands if the chairman decided he wanted the move to happen.
"But the chairman told me later on that he'd said to the manager: "If you don't want Lee to go, then he won't go."
"So that was good to hear, that the manager had the backing of the chairman to keep me at Sunderland.
"Now I just want to concentrate on a massive seven, seven-and-a-half weeks for the club; concentrate on keeping us up so we can start afresh next season and do it right."