Premier League: Sunderland boss Gus Poyet wants striker Connor Wickham to step up
Gus Poyet wants Sunderland striker Connor Wickham to fire the club to Premier League safety.
Last Updated: 19/04/14 5:13pm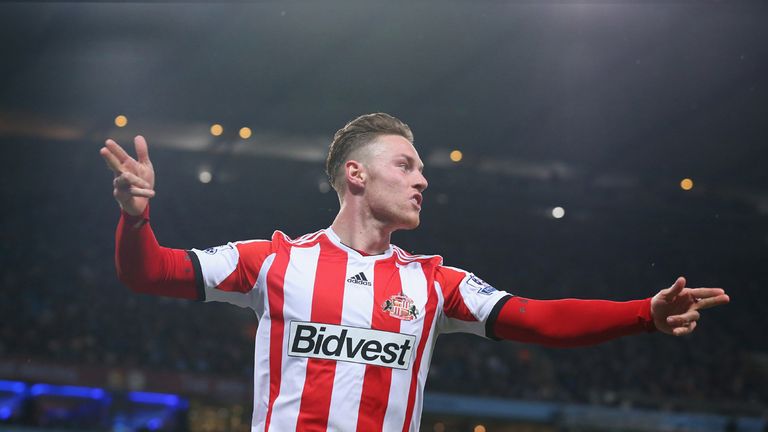 Wickham scored his first Premier League goals since October 2011 in the 2-2 draw with Manchester City and will line up against title-chasing Chelsea at Stamford Bridge on Saturday.
With Steven Fletcher out injured and Fabio Borini, Jozy Altidore and Ignacio Scocco out of favour, the Sunderland boss is turning to the £8.1m signing from Ipswich to help the club avoid relegation.
He said: "For a player to come together at a very early age with that price-tag on his shoulders, everything needs to be good, and the most important part is that the team is performing well and has got the time to play and get used to him.
"It's a process, so who knows? Maybe the best thing for Connor is that the team is playing in the relegation battle and he is part of it.
"Maybe if we were playing for something else or Fletch was fit and scoring goals, maybe he wouldn't be playing. Sometimes, you have to take advantage of any situation."
Poyet has been impressed with Wickham's contribution but says there is only one meaningful currency in which frontmen deal and that is hitting the net.
He added: "For a striker, there is a limit. Some managers will give you five games, some managers 10, some managers 20, but at the end of the day, you need to score, so the main thing for Connor was to get in there and score a couple of goals.
"It was impressive for different reasons, one because we needed the goals, for sure, and secondly because it was away at Manchester City, which is not easy, and it was at the moment that we needed the goals.
"We all talk about players and confidence, and strikers, maybe they go 10, 15 games without scoring and then they score seven or eight in two weeks. I am looking forward to that."
Sunderland are six points away from Premier League safety with just five games left to play and the chances of them reducing the gap this weekend look remote with Chelsea unbeaten in the league at Stamford Bridge under manager Jose Mourinho in 77 attempts.
The Uruguayan said: "Who would have thought Sunderland are maybe going to decide the title one way or another? No-one, eh?
"We don't play for anyone apart from ourselves. It's going to be more of a shock if we beat Chelsea because they have never lost at home under Mourinho in the Premier League. If you think why Sunderland, people would ask why? We will see.
"The idea is to go and be brave, but not brave in terms of taking risks and being silly. The idea is to be brave playing the way we play, defending how we need to defend and trying to play our football. It doesn't just depend on what Chelsea are going to do."
Watch Chelsea take on Sunderland live from Stamford Bridge from 5.30pm this Saturday on Sky Sports 1