Premier League: Gus Poyet backs Sunderland keeper Vito Mannone following error
Sunderland boss Gus Poyet backs goalkeeper Vito Mannone to bounce back from his costly error against Manchester City.
Last Updated: 19/04/14 5:12pm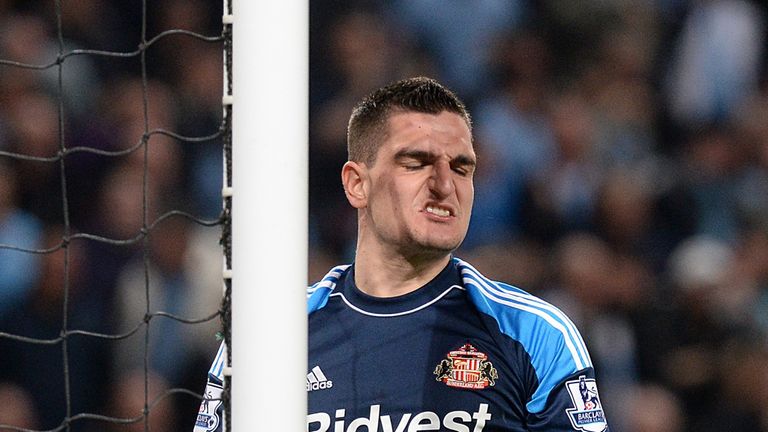 The Italian keeper allowed Samir Nasri's tame shot to squirm from his grasp and find the net at the Etihad Stadium on Wednesday to give the home side a point when it had looked like the struggling Black Cats would take all three.
Before that, Connor Wickham's double had put Poyet's bottom-placed side on course for a precious win in their battle against relegation.
Mannone was visibly distraught at the end of Wednesday's game but Poyet says he has faith in the 26-year-old to produce a positive performance in Saturday's clash with Chelsea at the Stamford Bridge.
"I think Vito wants just to play again as soon as soon as possible," said Poyet. "I have got no doubts he is going to play, it's not a problem for me."
When asked about Mannone's error, the Uruguayan responded: "That's why when you have a son, the first thing you say is, 'Don't play in goal. Any position but in goal'.
"It doesn't matter how well you play for 89 minutes, it doesn't matter how many saves or crosses you catch, if you make one mistake, it is going to cost you a goal.
"It's the worst position to be part of. But the goalkeepers know that and the have to live with that and they have cope with that."
Sunderland remain six points from safety and while a trip to title-chasing Chelsea is a daunting one, Poyet is taking heart from their performance at City.
He said: "The idea is to play and believe in what you do and stay in the game, don't give up, don't throw the game away in 20 minutes because not a long time ago, Arsenal after 20 minutes were down to 10 and 3-0 down at Stamford Bridge, and that's a difficult one to take because then you don't have too many options to change.
"The idea is to start strongly to make it difficult, but at the same time to put them under pressure, Chelsea, and to use your strength until you are good enough to do it."
Poyet spent four years at Chelsea as a player, but he says will not allow old friendships to distract him on his return.
"Before the game and after the game is going to be great because I have got so many friends, even in the tunnel," he added.
"The idea is just to make sure during the game, I just concentrate on us and don't look for anything apart from trying to get something from the game."