Premier League: Gus Poyet challenges Sunderland to complete miracle
Gus Poyet has challenged his Sunderland players to complete the 'miracle' they started with their shock win at Chelsea.
Last Updated: 27/04/14 3:18pm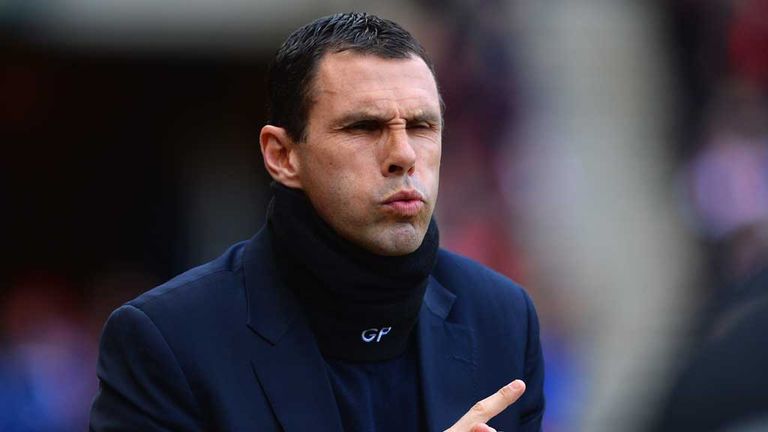 The 2-1 victory at Stamford Bridge came just four days after a 2-2 draw at Manchester City and has given them a fighting chance of dragging themselves out of the relegation mire.
They now host fellow-strugglers Cardiff City at the Stadium of Light on Sunday and are just three points worse off than 17th-placed Norwich City with four games remaining.
Asked if the belief of his players has grown in the last week or so, Poyet said: "It's been a good week, yes, it's true.
"They are human beings, normal people who were very down because of the situation, and then in four days, everything changed.
"Now the idea is, with all respect, we have done something very special, but let's say half of the miracle. The other half, we still need to make."
Sunderland have threatened to dig themselves out of trouble on several occasions, most notably after a 3-0 derby victory at Newcastle on February 1 which lifted them out of the relegation zone, only to slip back into the bottom three.
Poyet said: "After the derby, it was better because we were out of the bottom three, but we have been in this position many, many times and somehow, we didn't take advantage.
"This world of football has given us another chance and it's time to take it because we have left it so many times, it would be a shame if we don't do it now.
"If you believe in yourself, depending on where you play and against whom, you will always have another chance. Football always gives you a chance.
"The problem is that there are only a few games left, so let's hope we don't need to wait for another one. We don't want not to win this game and then need to go to Manchester United to win to give us another chance against West Brom.
"I want to take one of them because we have lost a few."
Poyet, whose side currently have 29 points, set a target of four victories for survival several weeks ago, and that remains achievable, although they have managed only seven in the league all season and just one in their last 11 on Wearside since November 10.
He said: "I always said that we needed over 36 points, and I have not changed my mind on that. If after you need less, we are lucky.
"But the idea is to go and win those four games that we said before. We have got a win and a draw so if we win another three, it's over.
"I know it's going to be difficult, three from four. People will say, 'Why are you going to win three from four now?'.
"But why are you going to win at Stamford Bridge against Mourinho? Why are you going to draw at Manchester City?".
Watch Sunderland v Cardiff live on Sky Sports 1 from midday on Sunday.