Premier League: Sunderland goalkeeper Vito Mannone says 'relegation war' is far from over
Vito Mannone has insisted that Sunderland have achieved nothing yet and still have 'three finals' ahead of them.
Last Updated: 29/04/14 9:27am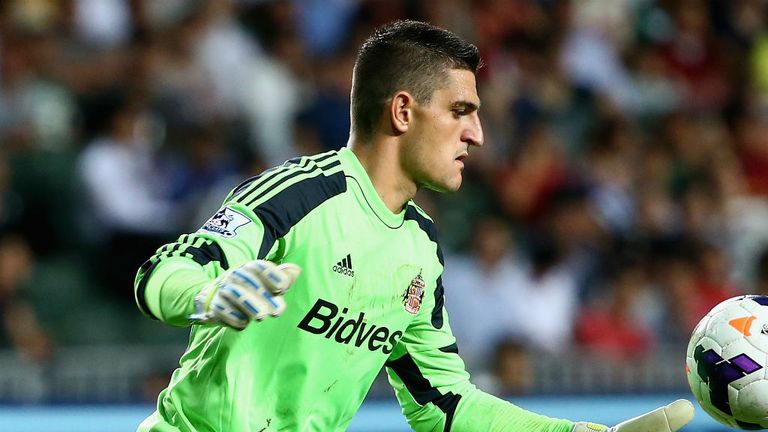 Gus Poyet's side looked doomed to relegation just a few weeks ago but have followed up a 2-2 draw against Manchester City with a stunning victory at Chelsea and a 4-0 win over fellow strugglers Cardiff City to climb out of the bottom three.
However, while Mannone is pleased to have built up some momentum, Sunderland are currently only outside the drop zone on goal difference and he knows there is a lot of work to do in their final three games.
Sunderland travel to Manchester United on Saturday before facing West Bromwich Albion and Swansea City at home.
Mannone said: "We cannot assume that we have achieved anything. Nothing has been done yet - we have just started the job.
"Before the Cardiff game, we had four games to go, and we talked about how they were four finals for us. We've only won one.
"There are still three more to go and they are every bit as important, if not even more. We have only won one battle. To win the war, you need to succeed in another few fights.
"Finally, we got a big performance and a big result. I thought we deserved the win, and we played like we should play every game at home. We dictated the game and played our football.
"We created a lot of chances, and made the other team suffer, which we haven't always done this season. The crowd was exceptional and, as a team, I thought we did exceptionally as well. It was the whole unit working together, and thankfully we ended with the win."
Mannone is confident Sunderland can retain their top-flight status and then push on next season, saying they could become a 'really good team' with some astute signings in the transfer window.
"We have a lot of momentum and that carried over from the matches at Manchester City and Chelsea," said the goalkeeper.
"I am just hoping we can finish off the job, and build on it next season. I think we have an excellent squad, even though we haven't performed as we would have wanted to this season.
"With a few additions we can be a really good team in the Premier League."