Premier League: Gus Poyet gunning for Manchester United as Sunderland continue survival fight
Sunderland boss Gus Poyet has never known such a topsy-turvy season - but says he won't get bogged down in the maths.
Last Updated: 03/05/14 2:08pm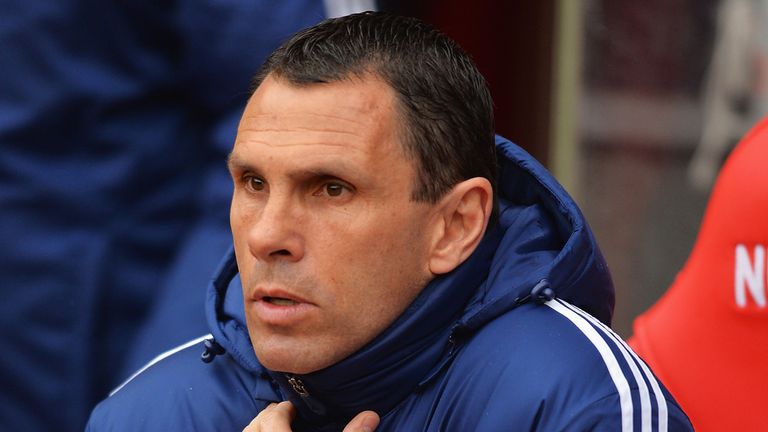 Poyet has led his side to a derby double over Newcastle and a Wembley cup final, at the same time as fighting a season-long battle to stay in the Premier League.
But seven points from nine - four of them taken from title rivals Chelsea and Manchester City - has lifted the Wearsiders out of the bottom three and the Uruguayan has urged his players to take their new-found momentum into Saturday's clash with another heavyweight in Manchester United.
"It's the most up and down season. I don't remember having one like it," Poyet said.
"You have to be here, you have to be part of the Premier League to know how demanding it is.
"I have no idea how many points we'll need to stay up.
"The closer you get, it's not about the points, it's just about having three teams behind you.
"The easiest way (to avoid relegation) is to win two, that's it. If we win two, it doesn't matter what the rest do."
Sunderland have already enjoyed delirious celebrations at Old Trafford once this season after booking their trip to the Carling Cup final after a dramatic penalty shoot-out, and Poyet is hoping that will stand them in good stead.
"Without any doubt, that achievement and those celebrations there will bring a possibility," he added.
"That doesn't mean you are going to win, but you will have a little bit more chance of winning, for sure.
"The players are desperate to play again and go on and keep winning. The feeling is great. We need to make sure we take into consideration there's plenty to do but the feeling is great."