Premier League: Gus Poyet already planning for next season says Charlie Oatway
Sunderland coach Charlie Oatway has revealed Gus Poyet is already working on rebuilding the squad for next season.
Last Updated: 09/05/14 7:02pm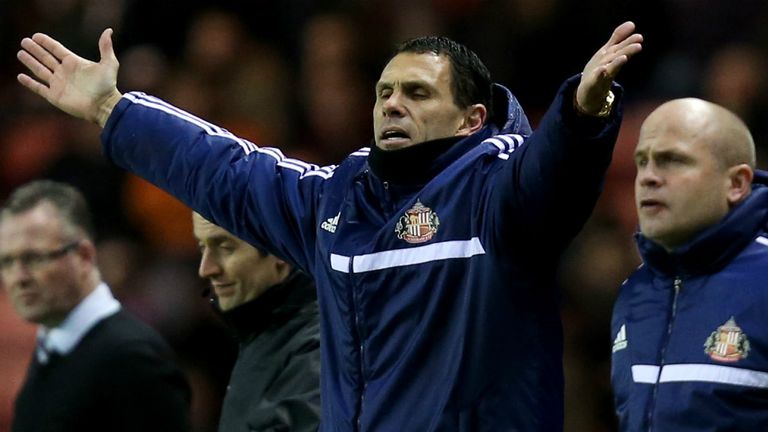 The Black Cats ensured they would avoid relegation from the Premier League with the 2-0 home win over West Brom in midweek following a remarkable run of results in their previous four matches.
But far from basking in the glory of an unlikely escape act, Poyet spent Friday afternoon talking to some of the 13 players who are either out of contract or approaching the end of loan spells.
Oatway said: "Gus has done a fantastic job with the players and the club, but now we have got work to do, sorting out players, looking at options that we might have to bring in or whatever and see what happens in the market, whether people come in for your players.
"We don't know what's going to go on, we haven't got a crystal ball, so we don't know.
"But there's work to be done now and we have to get it done and make sure we get our foundations sorted out as much as possible now."
Phil Bardsley, Jack Colback and Sebastian Larsson are among the players who seemed poised to leave the club, but they could now be offered new deals.
Poyet would also like to sign Liverpool striker Fabio Borini after a successful loan spell this season.
Oatway added: "Gus is the sort of manager who likes to try to get his house in order for pre-season - and that's easier said than done - but at least then you know the group of players you have got.
"Then you can work on things, how you are going to play, constantly during that pre-season, so the first thing he wants to do now is sort out what we have got now, and then whoever we bring in or we get rid of, that happens.
"But the players we have to speak to, he wants to do that now, and it's only fair to them as well because most of them have got wives and kids and they want to know where their futures are."