Premier League: Sunderland striker Ignacio Scocco admits he would relish a return to Newell's Old Boys
Striker Ignacio Scocco's future at Sunderland is in doubt after admitting a return to Argentina is a 'priority.'
Last Updated: 08/06/14 10:51pm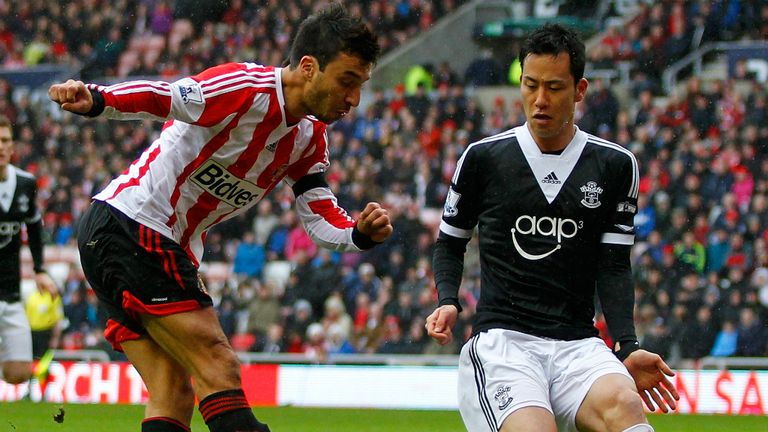 The Argentine has failed to score since joining from Brazilian side Internacional in January for a reported £3m fee.
After a disappointing start to his career at the Stadium of Light, the forward has hinted he wants to re-join Argentinian side Newell's Old Boys - where he made his professional debut at 19-years-old.
He is quoted by the Shields Gazette: "If you ask me, I'll obviously tell you that I want to play for Newell's.
"Newell's will always be first in my priorities but this time I can't move a finger to help Newell's in a possible negotiation.
"I can only give my opinion if you ask me where I want to go.
"There are things that bother me, for example when I walk through the streets of Rosario and people come to me and say "remember you said that in Argentina you will only play for Newell's?
"What I am saying is that provided there is a possibility to go to Newell's, then they will have priority, but if there are no possibilities, obviously I will have to look for second choices."
Scocco admits he will have to be patient in his quest to return to his homeland, but insists that the decision to leave Sunderland does not depend entirely on him.
"People ask me what I'm going to do and I don't know to answer them. What people should know is that it does not depend on me," he said.
"Sunderland paid money, but to me does not serve me to play there because I don't have continuity and it doesn't serve the club because you have a player who does not play and is not comfortable.
"We are still awaiting a response from the management of Sunderland, so I'll have to be patient. There are possible deals in Argentina and elsewhere but I am calm, I have a contract there and can do pre-season.
"We must see what Sunderland ask for me and then see if Newell's can afford it - I don't want to put pressure on the club to pay money that it does not have."