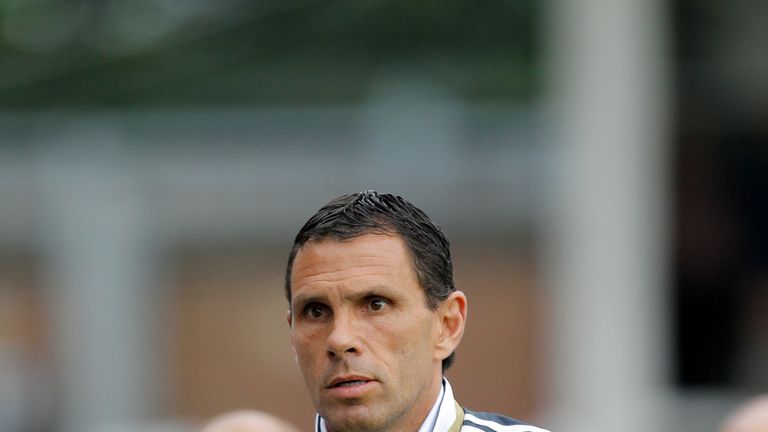 Sunderland head coach Gus Poyet has admitted he is losing patience in his bid to sign Fabio Borini on a permanent deal.
The Liverpool striker enjoyed a successful spell on loan at the Stadium of Light last season and has been top of Poyet's list of transfer targets over the summer.
But although Sunderland have had an offer accepted, the proposed transfer remains some distance from being finalised.
Poyet is confident of pushing the deal through, but is being forced to consider other options with the transfer window deadline rapidly approaching. 
Asked if the club would set a deadline for signing Borini, Poyet said: "I have asked myself many, many times. I don't know, to be honest, I don't know if we need to put a date on it or not. I don't know.
"It's a daily thing. If something incredible comes in and we need to make a decision then, a player that we cannot say no to, then I am sure there will be a few phone calls saying 'now or never' both ways.
"But at the moment, we haven't found that player, but we will see."
Poyet also revealed Sunderland came close to having to make that decision after just missing out on a deal for Chile forward Eduardo Vargas, who instead chose to join QPR on loan from Napoli.
He added: "We were very close to getting Vargas. It was a matter of decisions between everybody - clubs and cities, living and possibilities and things, and in the end, everything didn't come through for us to get the player.
"That was close to us making a decision on whether Fabio was coming or not coming. It's daily. We haven't put a date on it, but it's daily and we are looking for options."
The Borini deal will not be completed before Sunderland entertain Manchester United on Sunday, but Poyet is pleased with his summer transfer activity so far.
He said: "I know the players very well, there are no doubts. Last year, I had too many doubts. Now I know exactly the players we have.
"The squad at the moment is very compact and it's easier to control. Everybody knows exactly what we want apart from the new players, who are trying to get used to it very quickly, so it's better for the team.
"There are fewer and fewer and fewer excuses, which is good for me."
United suffered a surprise opening-day defeat at home to Swansea last week, and Poyet is wary that Louis van Gaal will inspire a response on Sunday.
"It's very difficult to see Manchester United losing two games in a row," he said.
"It's a difficult game. They have got quality and I am sure they are going to be up for it, they won't let it go past. For us, it's a special day, at home, it's the first game of the season.
"We need to play better than last week (a draw at West Brom) and be good on the ball to have a chance."