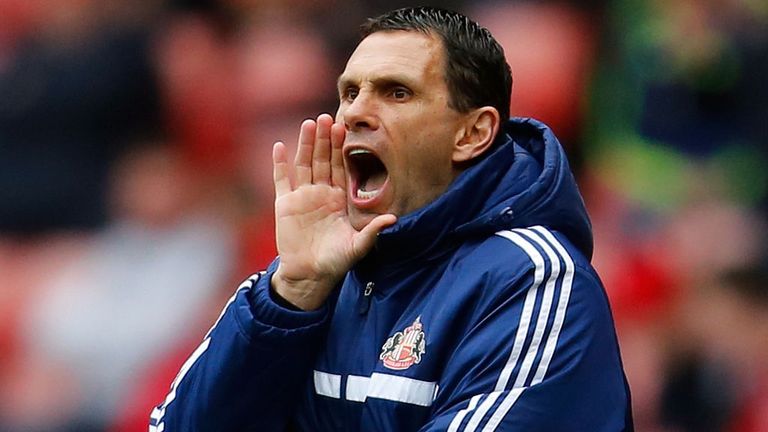 Gus Poyet will have a better idea whether Sunderland can prosper in the Premier League this season by the time the transfer window shuts.
Poyet concedes he needs to make at least a couple of signings before 11pm on Monday and is getting more and more exasperated when news about players he has targeted becomes public knowledge.
The Uruguayan has made seven signings this summer but is looking for more options up front, where he has been linked with Liverpool's Fabio Borini and Ricky Alvarez of Inter Milan.
Poyet was planning to travel with the rest of the squad for Saturday's clash with QPR at Loftus Road, leaving sporting director Lee Congerton to deal with any more discussions about players, but his pre-match press conference was dominated by recruitment talk.
He said: "The problem is here, we have to [sign more players]. It's not that we are okay and these two are extra quality or extra strength. No, no. It's two or whatever players that we bring who are in the system of my squad.
"We are trying to get specific players, not anyone, and that's why it's been a little bit more difficult.
"It's clear for the recruitment system what I want. I think the problem is there is not that quantity. It's not anyone for whatever reason, it's a certain kind of player.
"You can use the word 'happy', but it's not good enough if we don't because we have a small squad and we need those players.
"You do all your work, you get in contact with the club, you get in contact with the player, you research if he has the right mentality, if he has any problems, everything that's important for you.
"Then the name comes out in the Press, another club gets involved, another one offers more money, another one, another one and at the end of the day, he is not coming, so I am sorry, but no names.
"It's been a very difficult summer. There were moments when we were very, very close to getting deals done and at the last minutes for different reasons, they didn't happen, which changes a little bit your ideas about the squad."