Clough hails ten-man Rams
Derby boss Nigel Clough was almost lost for words after seeing his side come from behind to beat rivals Nottingham Forest, with ten-men.
Last Updated: 17/09/11 6:53pm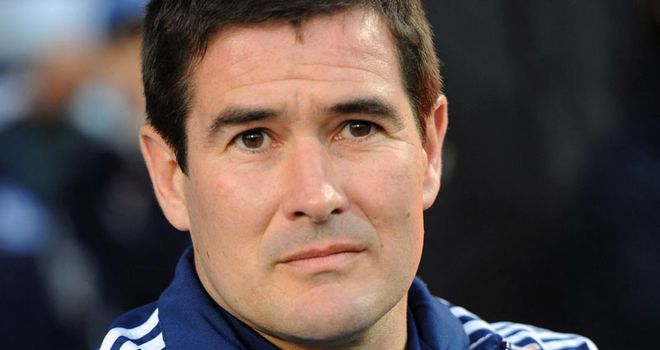 Derby boss Nigel Clough was almost lost for words after seeing his side come from behind to beat rivals Nottingham Forest, with ten-men.
Derby had Frankie Fielding sent-off in the opening minutes as he brought down Ishmael Miller in the box.
Andy Reid stepped up to convert and give Forest the lead, but Derby fought back with Jamie Ward equalising before teenager Jeff Hendrick claimed the winner.
"In the context of the moment, coming off the back of consecutive defeats and
wanting to stay in the top six and against the adversity of the opening two minutes, I thought it was an absolutely remarkable performance - staggering,"
said Clough.
"It was beyond what we could have expected. I would have taken a draw at any
point during the game.
"Honesty, hard work, spirit and a lot of character - we are a close group and
we have all that in abundance all the way through the team.
"For 10-15 minutes after the red card we got some composure and settled and looked relatively comfortable up to half-time. But to a man, including the substitutes we used, and even Russell Anderson coming on for the final few minutes was vital, we were superb, incredible."
On the penalty decision, Clough added: "I haven't seen it. It just seemed to be more of a collision than anything else.
"He's not going round the goalkeeper or anything like that so it's difficult to say without seeing it."
The manner of Derby's equaliser in the 29th minute was just as dramatic as the opening goal.
As Forest full-back Chris Cohen lay injured on the ground midway inside the County half, following an innocuous-looking clash with Mark O'Brien, Derby worked the ball out to Ward on the left wing amid a chorus of boos from the home supporters who wanted play stopped and he fired home from an acute angle.
Clough said: "Its not our job to stop play. You are told from five years old
to play to the whistle and that is what we did.
"If the referee wants to stop it or feels like he should then he will do that. But let's not take anything away from Jamie Ward because it was an absolutely brilliant individual goal."
Not happy
Forest manager Steve McClaren, who is still looking for his first Championship victory at the City Ground, agreed with Clough but was critical of his players' defending.
"I wouldn't have stopped, I would have played on," said McClaren. "That decision is up to the referee. I don't expect any favours.
"But I also didn't expect us to switch off. To allow Ward to travel nearly 50 yards and skip by two challenges and slide the ball in from where he did was unacceptable.
"When you look at our record we are conceding too many goals and that is a major problem we need to sort very quickly.
"Our weakness is our defending an it has been exposed and we need to address that both on and off the field. We need clean sheets and we need to become hard to beat because at the moment we are not."