On the Ram-page
Derby striker Conor Sammon discusses play-off pushes, regular football and international ambitions.
Last Updated: 27/05/13 11:06am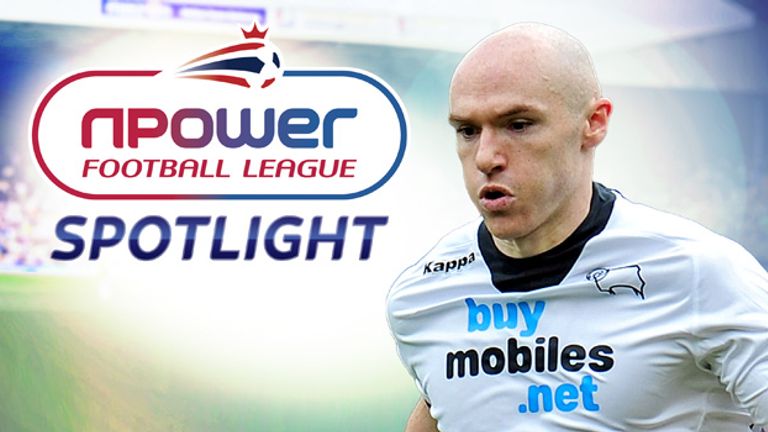 The 2012/13 campaign is about to enter the final straight, with promotion pushes and relegation battles now in full swing.
Here at Sky Sports we continue to take you to the very heart of the Football League, with our Spotlight features intended to give you a greater insight into the clubs and players that keep us on the edge of our seats.
We are hoping to bring you the views and thoughts of a representative from each of the 72 teams over the course of the season, with those involved asked to give their take on the division they compete in, the club that pays their wages and those we should all be keeping an eye on.
Derby's Conor Sammon is next in the hot-seat, with the Rams striker taking time out to discuss play-off bids, regular football and international ambitions with Chris Burton.
You must be delighted aren't you with the position you have put yourselves in - in play-off contention with a quarter of the season remaining?
Absolutely. When we look at the league table, we have had a lot of games recently where we feel we could have picked up three points rather than one. When you look at that, you think maybe we could be even higher. But to be where we are at this stage of the season, in with a shout with 10-12 games left to go, I think there is a lot to look forward to between now and the end of the season for us.
Have there been a few too many draws - 11 for the season and four in your last six?
Sometimes you can look at a draw and how the game has panned out and can think it was a point gained, as opposed to two dropped. But recently we have been playing very well in games - like Sheffield Wednesday, where we were up two goals and ended up drawing the match. Against Hull, I thought we more than deserved something from the game but conceded a late goal and in the last two games against Wolves and Bolton, both teams have come up against us and have almost seemed as though they are happy with a point against us at home. We just didn't manage to take the three points, but I think we have a lot to look forward to with the upcoming matches that we have got.
Is it just about keeping yourselves in the mix now, with the division being so competitive?
It is. Usually, if you can get back-to-back wins, that can make a massive difference. With the teams around you beating each other, you just never know. When you look at the fixtures, anyone is capable of beating anyone - bottom is capable of beating top and vice-versa. It is a crazy tight league and we definitely want to be in the mix for the play-offs come the last few games.
Is it fair to say the next few weeks will shape your season, with games against Watford, Crystal Palace and Cardiff to come?
It could. I don't think there is any doubt about it that they will shape what we are going to do with our season. If we are going to make a serious push, then you look at the next few fixtures, against teams that are doing very well and will have a good season, and you are looking, starting with Saturday's game against Watford, to get three points - like we do every game.
From a personal point of view, what have you made of your first taste of life in the Championship?
From when I played in Scotland, and when I was at Wigan, you always look at the Championship and the amount of games you have in a season and how hard it is to predict the results. For me to play in it and get the experience of that this season has been incredible. Physically it is a tough ask when you are playing so many games back-to-back, Saturday-Tuesday with lots of midweek matches. It's such a competitive league with lots of very good teams, with very little between them. I have really enjoyed my role with Derby this season and getting a real run of games under my belt. I have just really enjoyed it, I have enjoyed the season immensely and have a lot of fond memories so far.
Who has impressed you this season? You have Jamie Ward on fire at the moment.
Jamie is on fire, I think he has got 10 goals in 15 appearances, which is an incredible stat. He has popped up with some big goals, as he did the other night (against Bolton). We are very lucky to have a player like that in the team. But there are so many players that you could mention - Richard Keogh at the back, our skipper this season, has been brilliant. Will Hughes obviously stands out for someone so young, the way he has played so consistently this season, I think he has got a massive future in the game ahead of him. I think you could say the same about Jeff Hendrick, another young player, the amount of goals he has got from midfield has been key to how well we have done this season.
How do you reflect on the last two years - you earned yourself a shot at the Premier League with Wigan, but are you thinking you've taken one step back to take two forward?
Definitely, that was my look on things. When I went to Wigan, I look back on my time there with lots of good memories. I maybe didn't start as many games as I would have liked, but I really enjoyed my time there and learnt a lot from Roberto Martinez and played with lots of very good players there. But ultimately I wanted to play more games and Derby gave me that chance. The manager showed a lot of interest in me and since I have come in, I have loved every minute of it. Most importantly, you want to be playing week in, week out and thankfully this season that has happened for me.
It was a difficult situation you walked into at Wigan, a side down on its luck, has it been better for you to link up with a team like Derby that has plenty of belief and potential to go on to bigger and better things?
I think there is a lot to look forward to. We have got a young squad of players. You look at the clubs around us that have got massive wage bills and have money to spend, but the likes of ourselves are performing very well and are punching above our weight, you could say. The manager has got a great group of players together, a great spirit within the group and we don't really fear anybody. We go into each game knowing that if we play to our ability, we have got a chance of beating anyone.
You were handed a four-year contract when you signed, that's a nice show of faith from the club in your ability isn't it?
It is. It's incredible when you have got a manager like that, that has so much belief in me as a player. It's nice to have that security and stability as well. I'm loving my role in the team and really enjoying working under the manager. I definitely feel that Derby is a club on the up and there is lots to look forward to on a personal level and for the club.
You've earned international recognition this season as well with the Republic of Ireland, do you see that as reward for your hard work and the decisions you have taken?
Definitely. When I was in Scotland and at Wigan, when I was asked about playing international football, I always felt that if I was playing regularly, that would give me the best chance possible. Obviously that has happened this season since I've moved to Derby and the manager came to watch some of our matches and I was really pleased to get the call-up when I did. It was brilliant as well that Jeff and Richard were in the squad as well. The experience to link up with the players and to play against Poland and get a really good result, it was a great experience for myself and great memories. I hope I will have a lot more happy memories in a green shirt.
What are your targets for the remainder of the season?
I just look to take it game by game. I want to add a lot more goals. I feel I should have more goals than I have this season. I just look to keep working hard on the pitch and help the team get as many points as possible. Hopefully we'll get into the play-off places, which would be a great achievement for us.