Nigel Clough expects Derby's Will Hughes to attract more Premier League interest
Derby manager Nigel Clough expects teenage midfielder Will Hughes to continue to attract attention this summer.
Last Updated: 01/07/13 12:35pm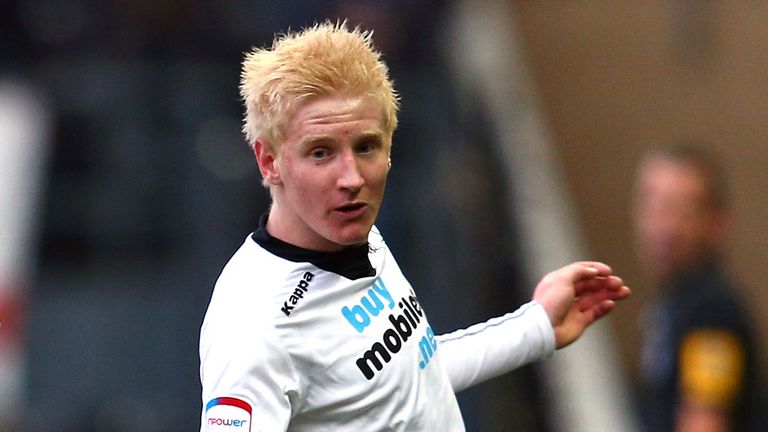 But the Rams boss believes the 18-year-old knows it would be more beneficial for him to remain in the East Midlands for at least another year.
Scouts from all of England's leading clubs flocked to Pride Park to watch Hughes last season but Derby have not received a formal offer for the player.
Clough wants to keep hold of one of his prized assets, who broke into the first team last season and in November became the second youngest player to represent the England Under-21 side.
However, Clough hinted the Rams may be open to a deal that would see Hughes initially loaned back to Derby - as happened when Manchester United signed Wilfried Zaha from Crystal Palace.
"I would expect there to be more interest in Will, especially if he starts off as well as he did last season," Clough said. "And in a way, we hope there is, because it would mean he's playing well for us.
"We're excited about seeing quite a few of the players this season but him more than anybody, really, after what he did for 30-odd games last season before he got injured.
"I think the key to it will be Will himself. But I think he's intelligent enough to realise that right now he needs to play another season, maybe two, at this level, if possible. He agrees that there is no benefit in going to a team and playing in the Under-21s, plus maybe one or two League Cup games a year.
"One of the things that I think has been mooted is a deal where he comes back to us for a period of time, which I think is the very least we'd like to do - if it comes to that at all.
"You never know - there might be a couple of clubs who want to secure him for the future because he is an exceptional talent."