Capital One Cup: Derby boss Nigel Clough pleased to overcome Brentford
Derby boss Nigel Clough feels the Capital One Cup can help his team prosper, while Uwe Rosler had no regrets.
Last Updated: 28/08/13 12:29am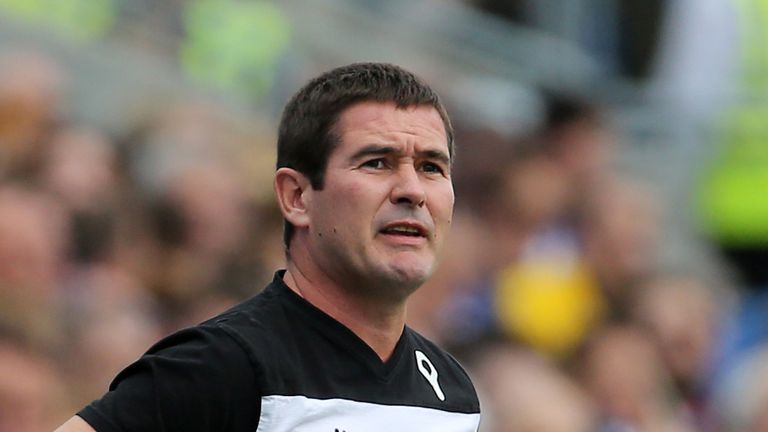 Clough dismissed suggestions that the competition was a distraction and made only four changes to the side that won at Yeovil on Saturday, while Brentford boss Uwe Rosler made 10 changes.
"We certainly don't see this competition as a distraction," said Clough. "In fact, we see it as an aid. It goes hand in hand with the league form and after the win on Saturday we didn't want to lose the momentum from that.
"We were 3-0 up at half-time 13 months ago and we threw it away against Scunthorpe, we still have nightmares about that, but I didn't think there was any hint of that tonight. I think we have improved and we didn't look like conceding goals tonight.
"We played some high quality football at times, irrespective of the side Brentford put out. I was talking to Uwe before the game and he said he had a few injuries and couldn't risk them which I completely understand.
"He has got promotion as his priority, but the experience his young players will have from this will benefit them down the line. We have played young players in the last couple of seasons and lost games, but now they are becoming good players because of the experience they have had in the past. If you don't put them out there, you're never going to know about them.
"It was very satisfying tonight, a clean sheet, five goals and one of two of the goals were a very high standard."
Rosler said: "It was a pragmatic team selection. What's in my mind is that we have a clear target this season and we also have some injuries. But I feel that the players that we did field tonight will learn a lot from this and that will also stand us in good stead.
"I thought that for the first 20 minutes we were good and I was not unhappy with the first-half performance even though we were 3-0 down, but the second half, not so happy.
"I expected a little bit more from one of two of them, but we move on now and we have a clear target - it's the league and nothing has changed in that regard.
"We needed to fight a bit better in the second half, but I don't regret the team selection, although I'm disappointed we didn't try harder as the game wore on. There was too much dropping back."