Sky Bet Championship: Steve McClaren excited by return to Derby County
Steve McClaren admits the chance to return to Derby was a key factor in his decision to become their new manager.
Last Updated: 01/10/13 1:49pm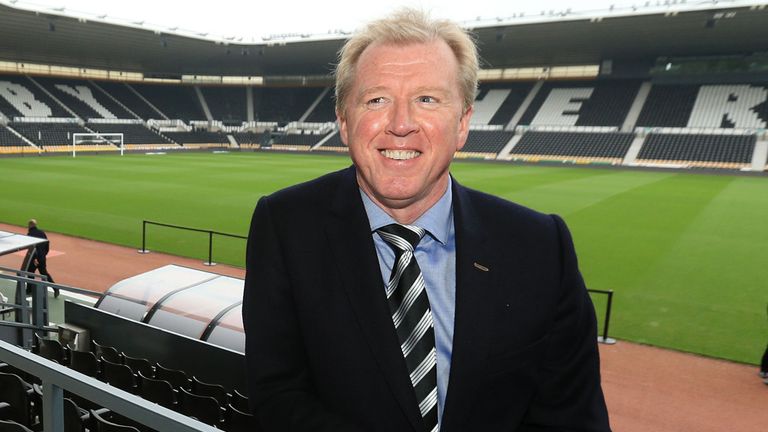 Nigel Clough was sacked as County manager on Saturday, just hours after their derby defeat to Nottingham Forest.
McLaren soon became favourite for the Pride Park hotseat and was confirmed in the role on Monday.
"I was here as a player at the old Baseball Ground and it's a club with a great tradition," he said.
"I've always followed Derby County because I've played here and I was assistant (to Jim Smith). It was one of those, at the back of my head, I thought I would always like to manage one day.
"The opportunity came, very quickly, with a phone call on Saturday night, and I had no hesitation.
"It was a wrench to leave Queen's Park Rangers, I had three great months there (on the coaching staff), Harry (Redknapp) was fantastic to me.
"But to come here, I am thrilled and excited. I think this is a big challenge ahead but what I see is a big club that in the last three or four years has developed its academy, its young players and has got a good team together.
"The board want to move in a new direction and go to that next step and that is why we are here. We want to fill the stadium and get the fans excited because they are the most important people at this football club.
"When you get success and a team that is playing good football, this place is really rocking. I've seen that in the past and I see that in the future but in the meantime we have to build slowly."
The former England manager admits he has made mistakes in the past, but he feels he has learned from disappointing periods at Wolfsburg and Forest, as well as from a difficult second spell at Dutch club FC Twente.
"I have had my experiences after England of moving abroad, some good, some bad," he added.
"At Nottingham (Forest) I made some mistakes, I didn't know the situation going in and got surprised by that. I tried to change things too quickly and was too ambitious, wanting too much, too soon.
"I think that was a mistake on my behalf but you learn from your mistakes. I have a great opportunity to come back to Derby and start something we hope will be big."
McClaren also paid tribute to the solid foundations laid down by Nigel Clough at Pride Park and promised to build on those in the future.
"You look at the young players that are coming through and Nigel has been significant in that, in establishing the academy and bringing that through along with (Academy Manager) Darren Wassall," he said.
"It is not my decision (to sack Clough) but the club's decision and all I can do is look at the good work that has gone on in the past and hope to develop and improve on that.
"All I can do is develop and try and improve to get this club challenging for a play-off spot and carry on the good work that Nigel has done."