Craig Mackail-Smith, Kevin Davies and Guy Branston match-fixing and gambling
Kevin Davies, Guy Branston and Craig Mackail-Smith on gambling and match-fixing in the Football League.
Last Updated: 08/12/13 10:13am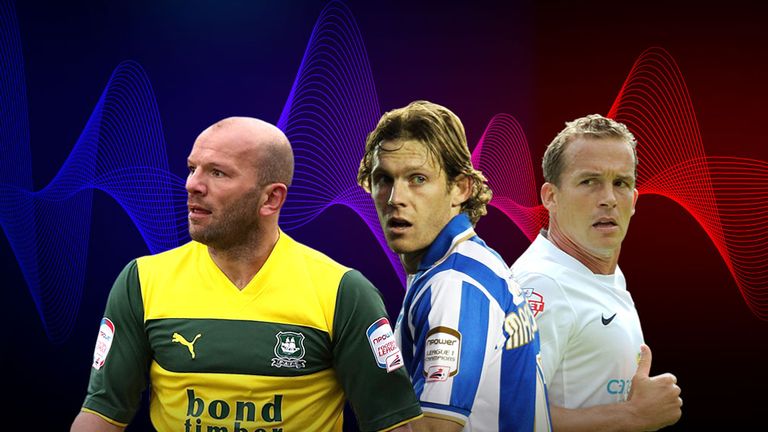 As well as a weekly blog from Crystal Palace striker Kevin Phillips, we will also be speaking to some seasoned campaigners in the Football League.
Brighton striker Craig Mackail-Smith, Preston frontman Kevin Davies and Plymouth Argyle defender Guy Branston - who all appear on Sky Sports News Radio's Football League Hour - will be chatting to us about all manner of footballing issues.
The National Crime Agency arrested six men at the end of November, including three players - former Bolton striker Delroy Facey has been named - alleged to have been involved in fixing football matches in the English lower leagues.
The arrests were made following a sting by the Daily Telegraph, in which it claims undercover reporters discussed the possibility of influencing the scores and outcomes of games for as little as £50,000.
This week we've asked our bloggers how rife match-fixing is in the game, whether they've had any first-hand experience and how gambling is intertwined with football...
CRAIG MACKAIL-SMITH
I don't know whether match-fixing is that common. There are a lot of rules and regulations for footballers with regards to betting and match-fixing, so I don't think it goes on too much.
But I do think, in one way, I can understand why players do it. I think some people believe footballers get paid vast sums of money all the way down the leagues but that's not the case and if people think there's a way they can make some extra money and get away with it, then they'll do it.
I've never seen it happen directly though, I've only heard what goes on in the news. All the people I've been around are very wise to it and they don't want to be caught out because they love what they're doing and it's such a big risk to take to get that extra bit of money. The PFA and the FA are very up on it now and they're trying to get you banned as quickly as possible once they've found out you've been doing it.
If I was a witness of match-fixing, I wouldn't know who to report it to and naturally I would want to speak to someone and say 'this is the situation' - maybe the PFA or the FA, or maybe someone at my club, but I'd probably turn a blind eye because I wouldn't know who to talk to.
We get given leaflets that explain what you're allowed to do and what you're not allowed to do but obviously it's up to that person how they decide to use that information. For me personally, I don't bet on football at all so I don't put myself in that position. But some people do like to have a bet and maybe they don't think they're going to get caught.
KEVIN DAVIES
I've never witnessed match-fixing but obviously I've heard of little things here and there but I don't believe it's ever been a part of any team I've been involved with -, or anyone I know personally who has been involved with it. So I was a little bit surprised by the current case but somewhere down the line someone will have taken to it.
Early on in my career, I heard about things like people betting on the first throw-in but that never affected the outcome of the game. Match-fixing results are more something you tend to hear about on the continent.
The way technology is, it's so easy for people now. It's not a case of going to the bookies, they can get it right there on the handsets and tablet and I think that's what the biggest problem is - it's so readily available someone can be sat in the dressing room bored and they can just pick up their phone and have a look at the latest odds for something. It's so accessible now and appealing now with things like in-play betting.
I don't see the problems with gambling as long as you do it within your means. We've all heard about footballers who have lost millions of a pound, that's a lot of money and when you're earning that much it's easy for it to become a problem.
In terms of rules on players betting on football; you can't bet on anything you're involved with, so obviously I can't bet on League One or the FA Cup. For that rule to have changed people have obviously puts those bets on - I'm not saying they've bet on their own team but games in the league possibly. I'm not a betting person at all so I don't really know all the rules.
There's been a couple of high-profile cases that I can recall, like Keith Gillespie and Matthew Etherington and the PFA teach us about addiction now. There is a problem but if someone is young, single and has nothing else to spend their money other than bets - this needs to be managed so they can control it.
GUY BRANSTON
I've played in the lower leagues and I wouldn't say it's rife, I would say it's more individuals rather than teams involved and nowhere near as heavily as people are trying to make out.
In our dressing room, we spoke about it and discussed as Delroy Facey was an ex-teammate of mine; but the only thing we spoke about was his character because that's all I knew about him, I didn't know anything else. It's something I'll remain interested in because it shouldn't be happening at any level of the game. It ruins football and the spirit of the game - what's the point of playing if the game is already fixed?
As much as you hear it goes on in other sports, it can't be as widespread as what they say it is in football. It's an amazing scenario to think that somebody in your team, squad or someone you may have played with could have ever have been involved with it because we all play football because we enjoy the game. But desperation and despair can sometimes make footballers do things and players with problems outside of football have been charted in the past.
You have to get to the core of the problems and try and work out why players would do that before you started accusing them and putting them in prison! There are sometimes deeper issues and these players might need help.
We do have chats with the PFA but I think they should do more about gambling. I think they should do more about gambling within football clubs. I think it's really important they open that door and educate players about gambling, what it can do to you outside of football, how it can affect your game, how it can affect your personality and how it can affect your life and your family.
The FA have come around to the club's this season and told us about different issues with gambling within sport which has been brilliant, but I think they should do more. We should keep reiterating the point that gambling will not be accepted while playing sport and that's something I really believe in.
Don't forget to tune in to the Football League Hour every Thursday night at 7pm on Sky Sports News Radio or download the podcast here