Bernstein - Harry is amazing
David Bernstein does not believe age would be a barrier to taking the England job and has praised Harry Redknapp for his work at Tottenham.
Last Updated: 12/02/12 2:00pm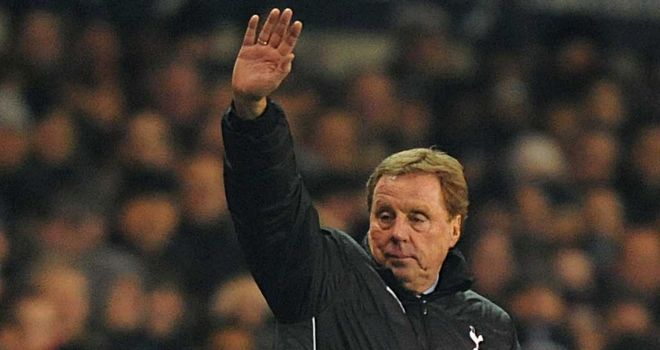 Football Association chairman David Bernstein does not believe age would be a barrier to taking the England job and has praised Harry Redknapp for the work he has done at Tottenham.
Redknapp quickly emerged as the overwhelming favourite to succeed Fabio Capello following the Italian's resignation on Wednesday, but FA bosses were initially reluctant to discuss individual names as they prepare to draw up a shortlist.
Bernstein has now given the clearest hint yet that Redknapp is very much at the forefront of the FA's thoughts, whilst also saying that seniority could be a major advantage.
At 64, Redknapp hardly seems to fit the long-term vision the FA is talking about as the organisation looks forward to Euro 2016 and even the 2018 World Cup in Russia.
But Bernstein, himself 68, is not sure that assessment is accurate.
As he began the process of looking for Capello's successor, it seems age, and the accompanying experience, might work in favour of candidates.
"I am 68 so age will not be a barrier," Bernstein said.
"It is the energy that is important. You can have someone who is pretty old at 40 and someone who is not at 60-odd.
"There might be huge pressures but it is a different dynamic from being a club manager. There aren't 38 matches and 10 cup matches.
"In a way, you could say this is more suited to an older person than club management where the demands are absolutely incessant."
No concern
The four-man Club England board charged with naming the next England manager are faced with the tricky position of knowing if they unveil anyone but Redknapp, they would be accused of having failed.
Yet Bernstein remains determined to go through the correct process, which is why Stuart Pearce will be in charge for the friendly with Holland at Wembley on 29th February.
"I am not concerned," Bernstein said. "We are where we are. We live in the real world.
"I can understand the hype around Harry. The guy has done amazingly.
"He is a fine manager and he is English. This job will be so attractive to many people, we will get interest from serious parties in spite of this hype."
Bernstein does not intend to restrict himself in any sense, even though he accepts "the national mood would prefer an English manager, that is obvious".
However, he is determined an appointment will be made well in advance of the pre-tournament friendlies against Norway and Belgium at the end of the season.
And, after splashing out £50million on wages for Sven Goran Eriksson and Fabio Capello, the FA will not be seen to make a home-grown candidate a cheap option.
"It could cost us a lot of money," he said. "That is one of the considerations. But we won't be penny-pinching on this.
"Whatever our views on past salaries, we will pay what we need to pay."