Roy 'honoured' by England post
West Brom boss Roy Hodgson would be 'honoured' to be England manager, although he is not expecting a call from the FA.
Last Updated: 25/03/12 2:17pm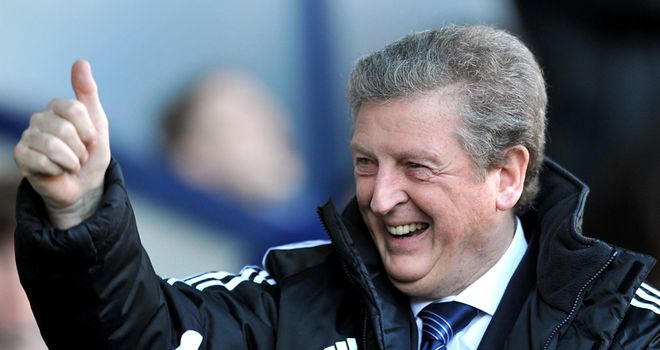 West Brom boss Roy Hodgson would be 'honoured' to be England manager, although he is not expecting a call from the Football Association.
The 64-year-old is believed to be a candidate to succeed Fabio Capello, but Tottenham tactician Harry Redknapp remains the favourite to replace the Italian.
Hodgson brings an impressive CV to the table having managed the likes of Liverpool, Fulham, Inter Milan along with Finland and Switzerland.
Despite his glittering career Hodgson thinks it is 'pretty unlikely' the FA will come calling, stating he now spends little time thinking about winning the position.
Honoured
"I enjoy my job here," Hodgson said of his West Brom post in the People. "England is not an ambition any more.
"If ever the day came around - and I think it's pretty unlikely - it would be a fantastic honour.
"But I don't go around dreaming, 'If we won on Sunday, it might help me get the job'.
"I want to win so West Brom can have an easier April and May. I'm not prepared to say I'm not interested in the national team position, but I don't think about it a lot.
"I'm pleased at this stage in my career that some are saying I could be a good candidate and I must have some seriousness in my candidacy or else those supporting other candidates wouldn't be writing articles trying to suggest otherwise.
"It amuses me that people are writing articles about me when I wasn't supposed to be connected with the job. It was all about Harry Redknapp.
"You'd like to think that those making the selection know what they want and if they are considering myself or Harry that they would know enough about us as people.
"I don't like to think they they'd made any decision on who wins the next game or two."
Backing
West Brom take on Newcastle at the Hawthorns on Sunday and Magpies counterpart Alan Pardew feels Hodgson is the ideal candidate to replace Capello.
Hodgson has more European and international experience compared to Redknapp and he would give him the nod over Real Madrid's Jose Mourinho.
"Roy has all the qualifications to be England manager," commented Pardew.
"He has more experience than Harry in terms of international management and he's managed abroad. This is a guy who has had a fantastic career.
"Nothing would give me more pleasure than seeing Harry or Roy as England manager above the Capellos, the Mourinhos and anybody else."