Gera could return this season
West Brom's Zoltan Gera is making good progress as he recovers from a cruciate ligament injury and may yet feature again this season.
By Juha Pal
Last Updated: 05/04/12 1:48pm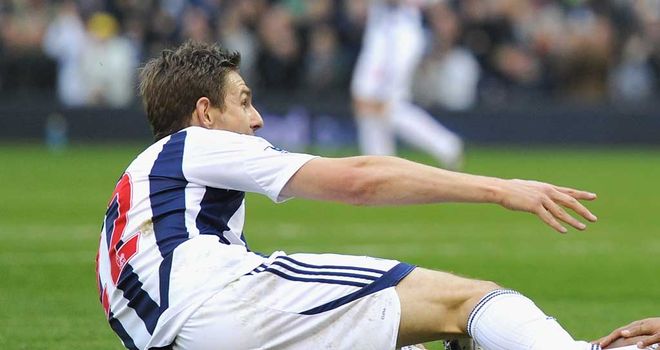 West Brom's Zoltan Gera is making good progress as he recovers from a cruciate ligament injury and may yet feature again this season.
The 32-year-old ruptured the anterior cruciate ligament in his left knee during West Brom's 3-1 defeat to Tottenham in November.
It has been a long road back for the Hungary international but the player's fitness is improving and he has not ruled out a return before the end of the current campaign.
But Gera is being patient and sees no sense in returning before he is ready.
"Fortunately everything is alright with me, there's no complication regarding my rehabilitation," Gera told Hungarian daily Nemzeti Sport. " It's true that I have the chance of a comeback by the end of the season but I won't rush anything.
The last four months weren't as long (as I thought). I will only play if the doctors show me the green light and when I feel I'm useful to the team.
"I run a lot, I can almost take sprints, I can do fast turns and movements and I shoot but not with full power.
Rehab in Portugal
"I've spent a week in Portugal with a physiotherapist. I trained on sand and on grass too - it was great for my soul.
"I don't feel pain in my left knee and I would be able to train more intensely. I see and feel how my knee has been improving.
"I would risk saying that my foot will be stronger than ever although I've never been a thick footballer. I've been patient since my operation and I won't be hung up and frustrated if I can't be back this season.
"But I'm looking forward to training with the team and look forward to playing again."
Compatriots
Gera's West Brom team-mates have been in fine form in his absence and have ambitions of a top-half finish. But the Hungarian still has one eye on events at the bottom as he follows the fortunes of his compatriots.
"It seems we don't have to be afraid of relegation unlike the bottom five teams," said Gera. "But I really hope that Adam Bogdan's team Bolton and Akos Buzsaky's club QPR will stay in the Premier League.
"Adam's great performance is also important because of the national team. I think it's great that he could take a forward step by becoming and staying the first-choice goalkeeper.
"His manager Owen Coyle didn't take him out of the team when he conceded avoidable goals and this may be one of the reasons why he has been playing superbly lately."
Gera also offered an opinion on the destination of the Premier League title, while pointing out a decline in standards at the top in recent seasons.
He added: "I think this year the big teams aren't playing so good as one or two years ago. But I think United will win the title."