West Brom defender Billy Jones wants to again finish ahead of Aston Villa
West Bromwich Albion defender Billy Jones wants to again finish ahead of derby rivals Aston Villa.
Last Updated: 29/09/12 1:38pm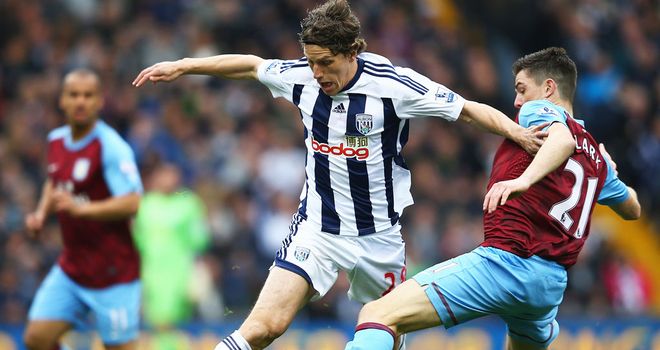 The Baggies secured a top-10 finish last season while Villa struggled to avoid relegation by only two points before sacking manager Alex McLeish and replacing him with Paul Lambert.
Albion have continued in the same vein in 2012/13 with 10 points from their opening five games, their best start to a Premier League campaign, while Villa are rebuilding under Lambert.
Defender Jones said: "The derbies are great. It's what I looked forward to when I first signed for West Brom.
"We want to win it on Sunday for the fans and win it for ourselves to continue our good start.
"The fans wanted to finish above Villa and I got that vibe last season. As a player, I was happy with that as well.
"It was an achievement to finish the best team in the Midlands. That's our aim again, to finish as high as we can in the league and for the fans definitely, to finish above Villa.
"But we are fired up for every game in the Premier League. We know the importance of it, the ones the fans are desperate to win, and we know that as players."
He added: "We just see it as another massive game to get another three points to continue our great start to the season."
Meanwhile, skipper Chris Brunt believes West Brom now "know what it takes" to win games at Premier League level after consolidating their place in the top flight with last season's strong showing.
Brunt said: "You've only got to look at the bench to see how strong we are at the moment. We've got three or four internationals sitting on the bench.
"That's credit to the lads on the pitch and also to the players we brought in in the summer.
Brunt is also hoping the Baggies can persuade key defender Jonas Olsson, in the final year of his contract, to sign a new deal.
He said: "There is a group of us who have been here for five or six seasons and hopefully, if we can add Jonas to that as well, we will be moving in the right direction."