Steve Clarke hoping to heap further misery on QPR when West Brom take on Mark Hughes' men
Steve Clarke is hoping to heap further misery on QPR today when West Brom take on Mark Hughes's men.
Last Updated: 06/10/12 8:00am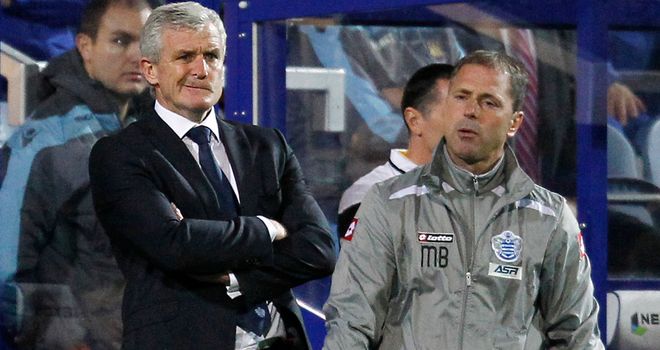 Despite bringing in a host of new players this summer, QPR are still without a win this season while Albion are looking to secure their fourth successive top-flight home victory for the first time in 93 years.
And while Clarke is desperate for another three points, the Baggies boss believes Hughes can turn his side's fortunes around given time.
"You go to a club, they invest in a number of players, sometimes it gels quickly, other times it takes a little bit longer," said Clarke.
"That is the case with QPR. They have got some really good players. It hasn't quite clicked for them.
"It is up to us to make sure this Saturday it doesn't click for them and they are still struggling going into the international break. That is our job.
"They need to turn their season around and we need to make sure we are 100 per cent at it and make sure it doesn't happen this weekend.
"It is a difficult situation for Mark Hughes. But he has got far more experience than me in terms of being a manager.
"I'm sure he has been in this position a couple of times before and he will know what to do - and he will know how to get his team out of it.
"There is expectation at every club. There is an expectation level at West Brom and it is something you've got to live with and deal with."