Defender Gareth McAuley would love to prolong his stay at West Brom
Gareth McAuley would love to follow fellow West Brom defender Jonas Olsson in securing a new deal at The Hawthorns.
Last Updated: 12/10/12 4:57pm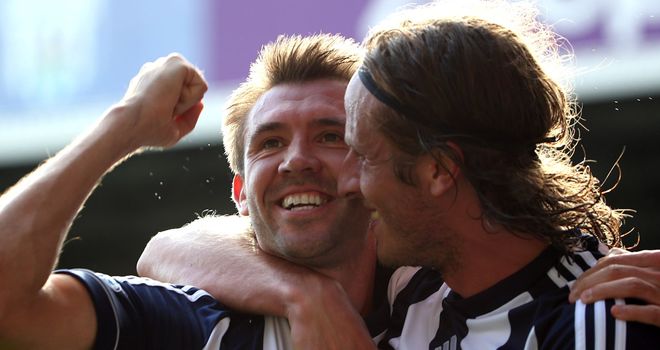 Since joining the club 18 months ago, McAuley has formed an impressive partnership with Olsson, who last week signed a new four-year contract, admitting playing alongside McAuley was a major factor in his decision.
The 32-year-old is contracted to the summer of 2014 but he believes that need not be the end of his Premier League career.
McAuley, who began his career at Coleraine in Northern Ireland before switching to playing for Lincoln, then Leicester and Ipswich, told the Birmingham Express and Star: "I'd love to stay.
"I don't want it to end and I just want to keep playing for as long as I can, winning games, and if I can keep putting in performances, why not?
"I started at the bottom, why not finish at the top? How long is a hard one to answer - obviously, I look after myself and fitness isn't a problem.
"I've come into the game later as well so maybe my body hasn't taken as much of a battering as all the young lads who have come through academies."