West Bromwich Albion goalkeeper Ben Foster enjoying life at The Hawthorns
Ben Foster insists he has no regrets in his career and is happy with life at West Brom.
Last Updated: 15/10/12 10:57pm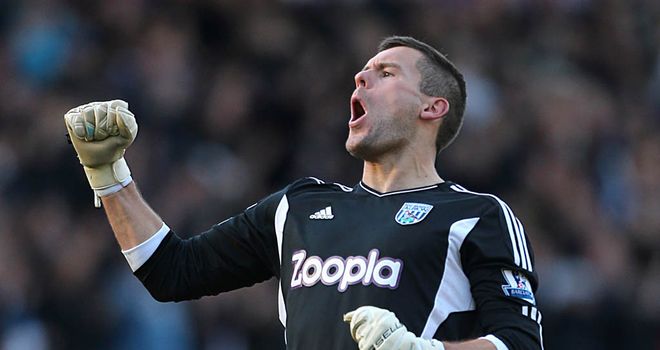 The 29-year-old former Manchester United and England goalkeeper signed a new three-year contract in the summer and the Leamington-born man is comfortable with life in the Midlands.
"I definitely don't regret anything in my career," Foster told the club's official website.
"I'm a Midlands person, I'm back at home and I've never been happier. I never once regret what I've done in the past - everything happens for a reason.
"You learn from it and it makes you a stronger person on a football pitch. I learned that at a club like United it's very cut throat, succeed-at-all costs, you come away from it as a stronger person.
"I'm too laid back - I don't take this football thing as a 24/7 pursuit. I love playing it, I love Saturdays but it's not the be-all and end-all.
"I don't go home on Saturday and think 'right, I've got to prepare for next Saturday'. I take my mind off it, relax and start worrying about the next game a few days later.
"My two kids are three and four-years-old now - they are full on. They are on me all the time and I'm either with them at home, picking them up from school and nursery or doing other stuff with them.
"My parents still live in Leamington. I have two brothers and a sister who live there. I live in Shirley. I don't really take football too seriously in so much that it's not the be-all and end-all."
He added: "I'm very professional about football, my training and my preparation but there is more to life for me.
"The thing with United is you know they'll always be in the Champions League and they'll have three matches in a week sometimes.
"It was so constant all the time - you very rarely got a day off, you were away from your family and you have to live and breathe football."