Ben Foster: West Bromwich Albion will defeat Southampton
West Bromwich Albion goalkeeper Ben Foster is confident that they will bounce back from their successive defeats.
Last Updated: 31/10/12 3:04pm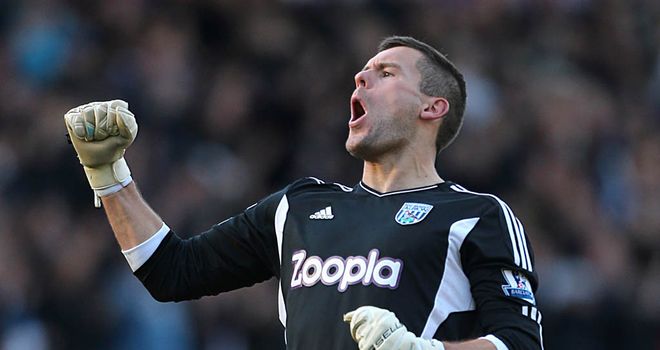 The Baggies went down 2-1 on both occasions after conceding last-gasp goals.
Foster, though, believes that they will return to winning ways against Southampton at home on Monday.
"We showed that we have spirit," he told the club's official website. "We deserved to get at least a point if not three against Manchester City and to bounce back as we did at Newcastle, against a very good team, shows that it won't get us down.
"We will keep on playing the way we know we can. The gaffer (Steve Clarke) said in the changing rooms that as long as we keep on playing like that we will win a lot more games than we lose.
"And he is damn right. We've got to look to the next game now and Southampton on Monday night is a game we would expect to get something from with the way we've been playing.
"We played really well against City and then again at Newcastle, and Southampton will know they've been in a game.
"We hustled and harassed Newcastle and didn't give them a second on the ball and we've just got to put Newcastle behind us and move on."