West Brom goalkeeper Ben Foster keeps his feet on the ground after going fifth
West Brom goalkeeper Ben Foster insists they are not getting carried away after their win over Southampton.
Last Updated: 05/11/12 11:10pm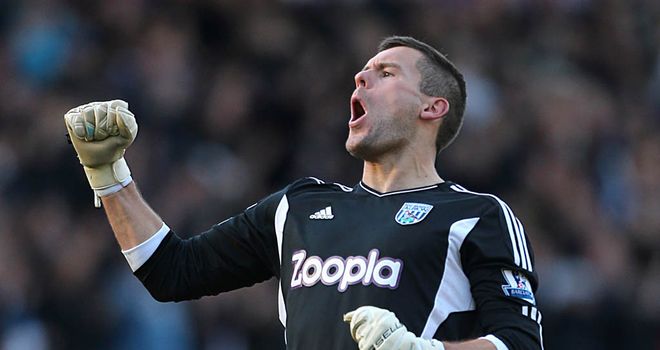 Two goals from Peter Odemwingie maintained West Brom's impressive start to the season to leave Southampton rooted to the bottom of the table.
Foster insists they are only focusing on reaching the 40-point mark as soon as possible as they look to secure Premier League survival before setting their sights any higher.
"It's a cliche but we are really not getting carried away. We are taking each game as it comes and we will just see where it goes," Foster told Sky Sports HD1.
"For the majority of the table I think there are 14 odd teams probably hoping to get to the 40-point mark and take it from there and we're no different.
"We will get to that 40-point mark as soon as possible and see what games we have left."
Foster, who was forced to kick with his right foot after picking up a knock to his left foot, played down the extent of the injury he sustained in training.
"I got a little knock on it in training yesterday, it's a bit swollen and I thought I would give the wooden right leg a go tonight," added Foster.
"I am really happy to get the clean sheet as we have been conceding some really unlucky goals recently and it is great to get back winning ways and keep a clean sheet too."
Response
Odemwingie, who was named man of the match, hailed the response of the side as they bounced back from two heart-breaking defeats in their last two games.
"After two difficult weeks we played very well and deserved at least a point from each game, but we said now we need concentration until the last minute because we conceded unlucky goals in the last minute but I think this is a good response of a good team," said Odemwingie.
Foster echoed Odemwingie' sentiments that they showed great resolve to get back to winning ways.
He said: "To bounce back from the two difficult weeks we've had, when we've been really unlucky against City and that last minute one against Newcastle last week as well, it was great from the lads to bounce back in the way we did and I think we thoroughly deserved the win."