West Brom boss Steve Clarke urges players to maintain impressive start to campaign
West Brom head coach Steve Clarke insists his side can get better, as he looks to maintain their superb early form.
Last Updated: 28/11/12 10:12am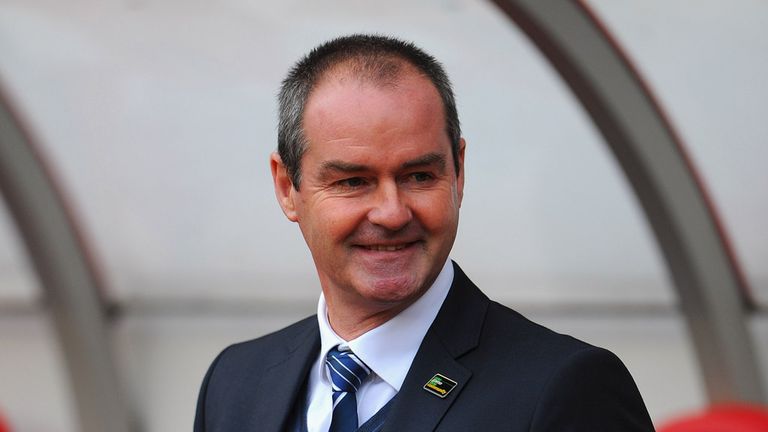 Clarke, 49, has challenged his squad, and himself, to carry on improving as he looks to steer his side to a fifth straight win.
West Brom currently lie third in the table and only four points behind leaders Manchester United, but Clarke believes things can still get better.
"I think there is more to come. I think we can continue to improve," said Clarke.
"If we don't believe there's more to come, we might as well give up. You have to strive to improve all the time.
"We have to lead each other, we have to push each other on.
"I want to be better, I want to be higher in the league, I want to do as well as I can in this job and the players are the same.
"They want to be as successful as they can be, and if we drive each other on, then that's great."
The former Chelsea and Liverpool assistant manager acknowledges that his team are not backed to maintain their impressive run, but does not see this as an issue.
"I think if you ask around, 95% of people in football would say West Brom wouldn't be in the top three come the end of the season. But let's see," he added.
"I don't need to use that as a motivational thing. I find my own way to motivate myself.
"I have my own targets and I know where I want to be and what I want to achieve, and that's enough for me."
The coach was also quick to defend his goalkeeper Boaz Myhill, after the shot-stopper received some criticism for his performance against Sunderland at the weekend.
Myhill, 30, has filled in for the injured Ben Foster in recent games and has played a big part in the Baggies' recent win-streak.
"I'm not sure what they criticised him about. The first goal was a massive deflection off the wall, he was wrong-footed, he couldn't get it," Clarke said.
"He made a fantastic reaction save on the second goal, and his defenders let him down because they didn't react to the second ball.
"I'm not sure why they would want to criticise him, maybe to put pressure on the boy, but I know Bozy can handle the pressure, no problem.
"He's been great and he's only been great because he works ever so hard in training, to be ready for his chance, and you can see he's getting his rewards the way he is playing."