Ben Foster is hoping to return to action in West Brom's home clash against Norwich
West Brom could have Ben Foster back for Saturday's Premier League clash against Norwich at The Hawthorns.
Last Updated: 20/12/12 11:18am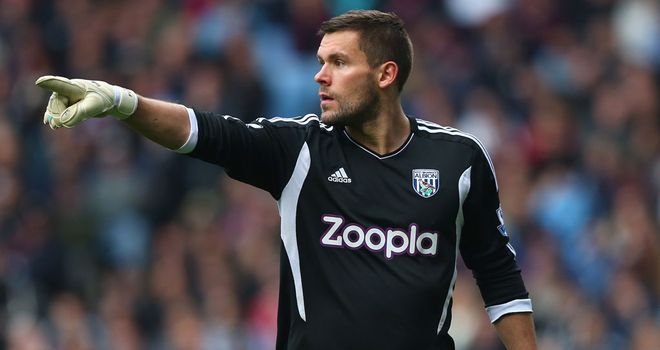 The goalkeeper has not played since the 2-0 win over Southampton last month due to complications with a hernia problem but has been back in training after two operations.
"I played in the Southampton game and I couldn't kick with my left foot because every time I kicked the ball there was a nerve getting pressed underneath my hernia, which was quite painful," Foster told the club's official website.
"I had to kick with my right foot because I had no pain on my right side. I got away with it because I could do all of the goalkeeping stuff fine, but as soon as I tried to kick a ball it was jumping out of your skin time!
"I've had groin issues recently but they think all of that was connected to the hernia, so hopefully this will solve all of that. It was really a double-hernia operation.
"I started training properly yesterday so we will see how training goes this week and take it from there. I felt absolutely fine."
Defender Steven Reid is unlikely to recover from the bruised shin that kept him out of the goalless draw with West Ham.