Zoltan Gera vows to play for West Brom in Premier League again despite knee injury
West Brom midfielder Zoltan Gera is confident he will bounce back from his severe knee injury.
By Juha Pal Tibor
Last Updated: 11/01/13 4:30pm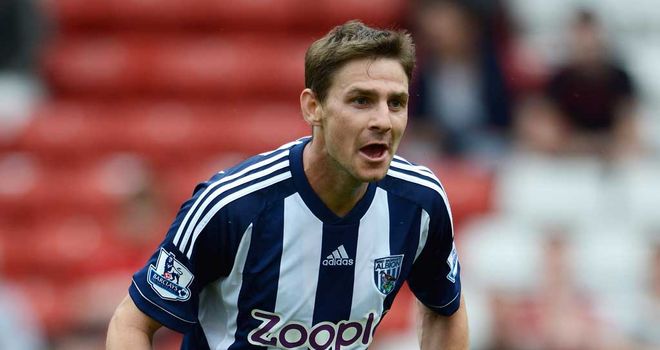 The 33-year-old midfielder was ruled out for the rest of the season after tearing his anterior cruciate knee ligament during last week's FA Cup tie against Queens Park Rangers.
With West Brom on the rise under Steve Clarke and Gera entering the twilight of his career, the injury comes at a bad time for the Hungarian.
However, he is adamant it will not mark the end of his time at the Hawthorns.
He told csakfoci.hu: "I will be back. In previous years, people have forsaken me a couple of times, but the last half a year confirmed that I am still able to play well on the highest level.
"I haven't thought for a second that I wouldn't recover, or I wouldn't be able to play on the highest level."
Gera has suffered severe injuries before and revealed he knew straight away that this latest setback was serious.
He added: "The news [about the severity of the injury] wasn't unexpected for me. I felt the same last year when I was seriously injured and there was also a tear.
"Our doctor told me in the dressing room after the first tests that there was likely a tear. I was hopeful, but I wanted to be ready for the bad news, so it wasn't unexpected when I was informed about the reality.
"The ligament was torn maybe because there was something wrong due to my last surgery. But the reason [of my injury] is not that my body is not suitable for English football - my doctor confirmed it. It was a result of an unlucky move."
The standard recovery time for a torn anterior cruciate ligament is six months. Gera is confident he can stick to that schedule and be fit for the start of the new season.
"I'm not sure when I can play again, but I don't think I will miss more than the predicted half a year," he added.