Ben Foster says West Brom are not overly concerned at their recent poor run of results
Ben Foster insists West Brom's recent performances have not reaped the rewards they deserve.
Last Updated: 30/01/13 6:51pm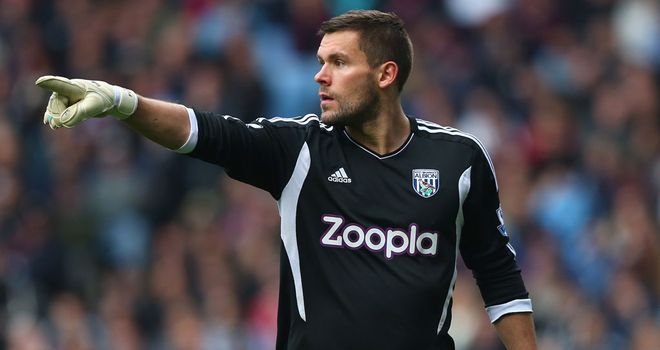 Albion will be looking for their first win of 2013 when they visit Everton on Wednesday evening after collecting just one point from their last four league games and crashing out of the FA Cup to QPR in a third-round replay.
However, Foster believes there is no need for an overhaul in playing style and says it is only a matter of time before the Baggies start picking up points again as they did at the start of the season.
The former England international said: "The performances have been good. We've carried on what we've been doing. It's just the results have changed.
"If you look at the last four or five games we've been unlucky, even going back to Manchester United when we lost 2-0 and they know they'd been in a very good game.
"We deserved at least a point from the Fulham game, if not three. As for Reading, it was crazy. For 83 minutes we were amazing, passing and defending well, just a pleasure to watch, and we lose 3-2.
"I don't think we are reading too much into it. The spirit is still there. We will carry on the way we always do.
"Even when we were third or fourth in the league we didn't go shouting about things. We just carried on.
"After the recent run, we will be exactly the same. That's the way we are. We prefer it like that. We've just got to get back to winning ways. No one's heads have dropped."
Foster is unconcerned by West Brom's unwanted knack of conceding late goals - 11 in the last 10 minutes of games this season.
He said: "I didn't know that until someone told me. I think that goes to prove we are not worried about it.
"Going into the last 10 minutes, it is not something we are thinking about and start getting anxious about.
"We don't really sense it. We just play the way we play. I think Tottenham had a similar problem early in the season.
"Some of the results they were getting were determined so late in the game and it was killing them.
"It is not something we are thinking or worrying about it. It's maybe just coincidence.
"We are a very fit team. I'm sure it's nothing to do with that and again we've got a lot of experience to call upon. Hopefully it's just coincidence and it will start to even itself out."
To find out more about live football on Sky sports, Click here