Boaz Myhill hopes his form will keep Ben Foster out of West Brom team
Boaz Myhill is preparing to battle Ben Foster for playing time when the West Brom and England goalkeeper returns.
Last Updated: 25/11/13 6:53am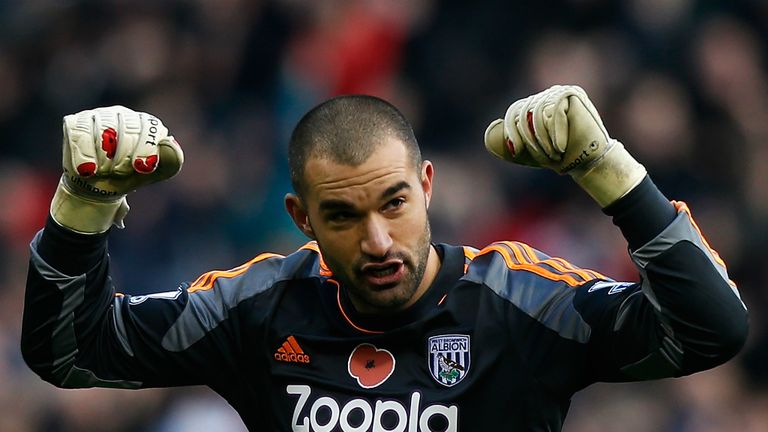 Foster sustained a stress fracture of a bone in his right foot in a 0-0 draw at Everton on August 24 and recently returned to light training.
There is no timescale on his return to first-team action yet and Myhill is determined to make life hard for manager Steve Clarke when it comes to making a decision about his No 1 keeper.
Ahead of Monday's Midlands derby with fierce rivals Aston Villa, he said: "Ben has proved himself to be a top keeper all the time he's been here and I have no illusions - I'll be up against it.
"Your best is always good enough as a player, and if the manager chooses Ben that's his decision. I just want to do as well as I can while he's not fit."
Asked if he felt capable of keeping a fit Foster out, Wales international Myhill added: "You'd have to ask the manager that, I don't pick the team.
"I'd like to play in the team, I'm trying my best at the minute and I think everybody's happy with the way I'm playing.
"The manager is paid to pick the team. He's doing a good job of it and we'll just keep fighting to get in the team all over the pitch."
Clarke speaks highly of Myhill and already knows he will have a tough decision to make between his 'joint number ones'.
He said: "It's been great for me, great for the club and great for Boaz because he's waited a long time to get in the team.
"The job of number two goalkeeper at any club is a difficult one but he's proved this season that he's more than a number two, he's a joint number one - when he's had to come in and do the job for us he's been great.
"To lose Ben Foster when we lost him at the start of the season could have been very difficult for the club and for the team going forward.
"But we knew we had another international goalkeeper who could come in and do the job and the way the team has defended tells you the back four are comfortable with Boaz and he is comfortable with them. It's been an almost seamless transition."