Premier League: West Brom's Victor Anichebe hails qualities of Saido Berahino
Victor Anichebe considers promising West Brom team-mate Saido Berahino to be of similar quality to Jermain Defoe.
Last Updated: 06/12/13 10:22am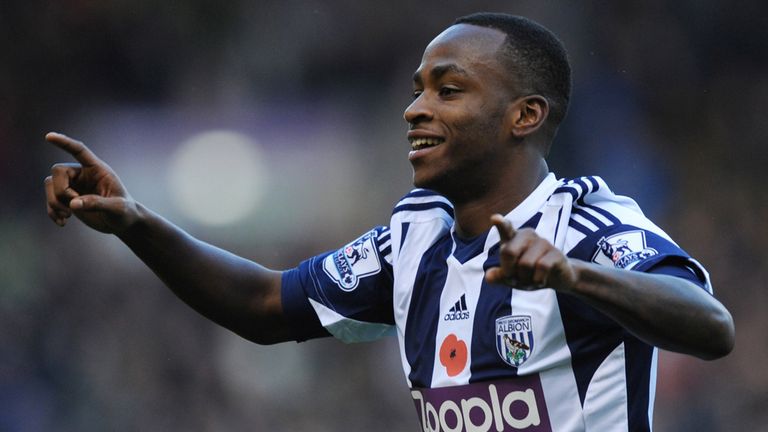 Tottenham Hotspur striker Defoe is widely acknowledged as one of the most natural finishers in English football.
Berahino still has some way to go to emulate the domestic and international achievements of the Spurs marksman, but the early indications are that he is destined for big things.
Still only 20 years of age, the England U21 starlet has burst onto the Baggies scene this season - scoring six senior goals, as many for the Young Lions, and landed himself a new contract.
His progress has provided Anichebe with stiff competition for a starting berth at The Hawthorns, but he is delighted to see an exciting prospect making the most of his potential.
The former Everton man told the Birmingham Mail: "He's an unbelievable finisher. I call him 'Defoe' because that's how he is.
"He's got good feet and he's a great finisher and he's going to be a great asset for the club. He's a really good player and a great finisher.
"He's a young player with a lot of confidence and he's come into a league where nobody really knows him.
"And he just enjoys it. It's nice to see someone that just comes in every day and enjoys it. Sometimes with older players it's more of a job, but he has come from nothing and he's come in and taken his chance.
"When I first came in he was one of the people who made me think: 'Wow! He's a really good player'.
"He's a confident boy but I'm delighted for him that he's got a new deal."
Anichebe added: "I speak to him sometimes because there are a few games when he's come on and scored and then he's got frustrated because he's not started the next game.
"But every young player goes through that. When I was at Everton I'd come on and score and then not start the next game.
"You just play your part in the team when there are senior players in front of you and you just wait your turn.
"He has waited his turn and he's come in and done well."