Premier League: Steve Clarke wants West Brom to halt slide down the table
Steve Clarke concedes West Brom could be facing a relegation battle ahead of a possible reunion with Peter Odemwingie.
Last Updated: 13/12/13 2:26pm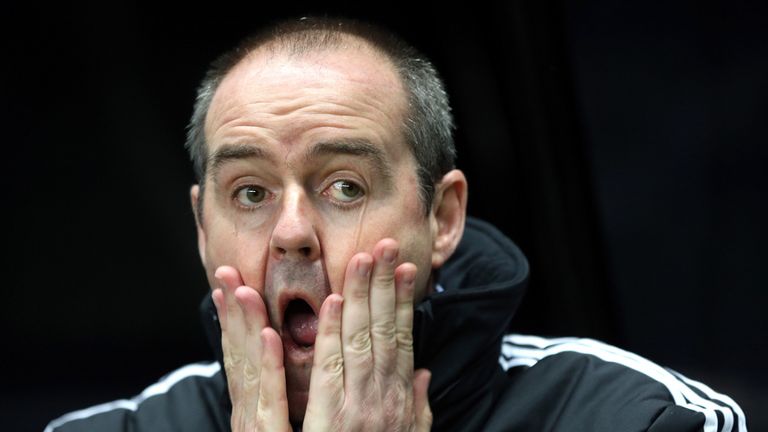 The Baggies have won just one of their last nine games and are just two points above the bottom three.
Clarke, who has overseen just seven Premier League wins from 33 opportunities in 2013, is hoping to end a run of three straight defeats against Cardiff in Wales this weekend.
Making the game potentially more difficult is the possibility of facing Odemwingie, the one-time Baggies star who left The Hawthorns last summer after a controversy-filled final season at the club.
"We are down there anyway, the table tells you that. It is not an issue," said Clarke.
"All I would like to do is get back on an even keel. We have worked hard in training this week.
"Hopefully the performance at the weekend is good enough to get us three points.
"It will look bad if we lose four games in a row, of course it will.
"But that is where we are, that is the situation I am in. There is nothing I can do about it except try to make sure the team is ready to win the game."
Odemwingie, who scored 26 goals for West Brom in his first two seasons at the club, could return to haunt his former club.
"It is possible, it can happen. He is a goalscorer, that is his position," added Clarke.
"So, if he is selected to play for Cardiff we will have to deal with him, the same as we will have to for anyone else they select.
"Former players come back, they play against you. That's what happens.
"People move on in football. Peter has moved on from here and so have we."
Malky Mackay's Cardiff are a point below West Brom in the table and Clarke expects the game to be a tight contest.
"It is a difficult game," added Clarke.
"I know Malky through association. We have never played together or been at the same club but he's a good man, he has got a good team there.
"They have had some great results at home and some really good performances.
"We expect a tough afternoon, as I'm sure they do.
"I have been down there and it is a good, intimidating atmosphere. They are a good crowd and they get right behind their team.
"But we are experienced enough to know the crowd can't score a goal, can't affect the play on the pitch. So, we go there just looking to put things right."