Nicolas Anelka hits back at French politicians over 'quenelle' criticism
West Brom striker Nicolas Anelka has denied his 'quenelle' gesture is racist and hit out at French politicians.
Last Updated: 29/12/13 7:37pm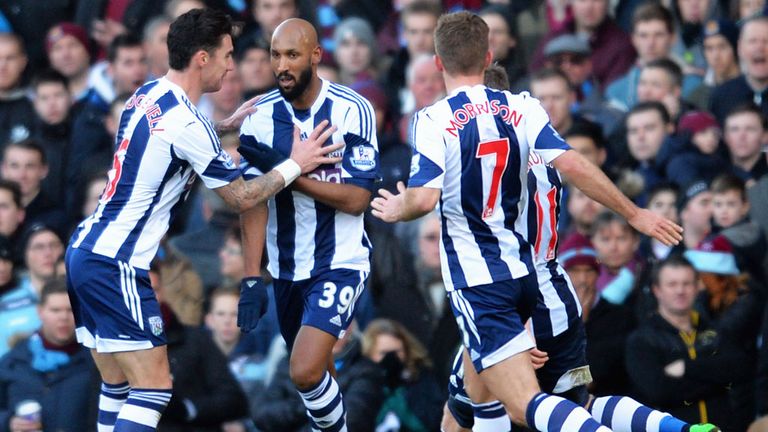 Anelka used the 'quenelle' as part of his celebration after scoring twice in West Brom's 3-3 draw with West Ham on Saturday.
The 'quenelle' salute was made famous by French comedian Dieudonne - a friend of Anelka's - and is linked by some to anti-Semitism.
French minister for sport Valerie Fourneyron condemned Anelka's use of the gesture, describing it as "shocking" and "disgusting" through her official Twitter account.
She wrote: "Anelka's gesture is a shocking provocation, disgusting. There's no place for anti-Semitism and incitement to hatred on the football field."
A statement from anti-racism campaigners Kick It Out read: "The campaign is in contact with partners in England and France regarding this matter and has offered its support to the Football Association in any forthcoming investigation."
The Football Association has confirmed it will investigate, but on Sunday Anelka took to Twitter to explain his actions.
He wrote: "The meaning of the gesture: anti-establishment. I don't know how religion has become a part of this story. This quenelle is dedicated to Dieudonne. With regard to the ministers who give their own interpretations of my quenelle, they are the ones that create confusion and controversy without knowing what it really means.
"I would ask people not to be fooled by the media. And of course, I am neither anti-Semitic nor racist and I totally back my gesture."
Dr Moshe Kantor, president of The European Jewish Congress, believes Anelka should be punished, however.
"It is sickening that such a well-known footballer would make such an abusive and hateful gesture in front of tens of thousands of spectators," Kantor said.
"There should be no room for such intolerance and racism in sports and we expect that the English Premier League officials as well as the police will give Anelka the appropriate punishment.
"We know that English football officials have a very low tolerance for racism at football matches and we hope that all concerned will abhor and show zero-tolerance for this hateful Nazi salute."
Kantor, describing the 'quenelle' as "merely a lesser known Nazi salute", added: "Furthermore, we hope that this gesture is banned in all places of Europe where Nazi salutes are banned.
"Merely inverting the traditional Nazi salute should not allow anti-Semites to spread and display their hate with impunity."