Premier League: West Brom speak with Nicolas Anelka over goal celebration
West Brom have confirmed they will continue to select Nicolas Anelka following his controversial goal celebration.
Last Updated: 31/12/13 10:12am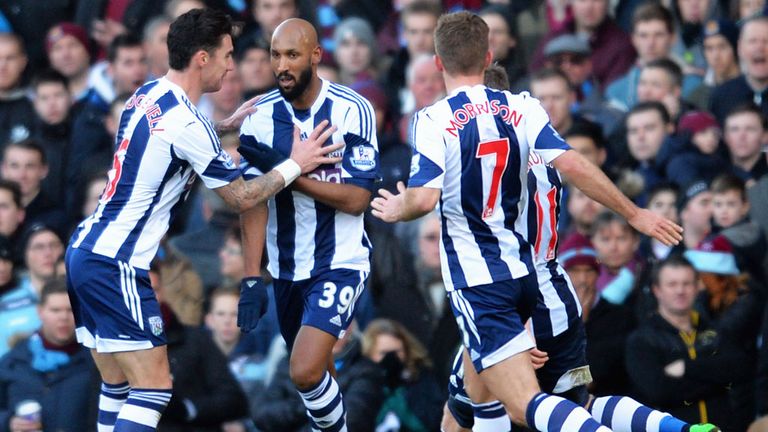 And the French striker has promised that he will not make the 'quenelle' gesture again.
He made the gesture - described by some as an inverted Nazi salute and linked to anti-Semitism - after scoring in the 3-3 draw on 28 December.
The development came as it emerged that Manchester City's Samir Nasri, Liverpool's Mamadou Sakho and NBA star Tony Parker had all performed the 'quenelle' in the past - with all three insisting they had no idea it had possible anti-Semitic meaning.
Anelka himself has insisted that no offence was intended and that he was simply expressing solidarity with his friend, the French comedian Dieudonne M'bala.
The FA are now looking into the matter but West Brom say that Anelka will be available for the New Year's Day game against Newcastle, although they have asked him not to repeat the gesture.
A club statement read: "Nicolas was asked to explain his goal celebration by Keith Downing within minutes of the game finishing at West Ham.
"Nicolas said that he performed the gesture to dedicate his goal to a friend and vehemently denied having any intention to cause offence.
"Upon reporting for training on Monday morning, Nicolas was asked by sporting director Richard Garlick to give a full explanation about his goal celebration, during which he again strongly denied intending to cause offence.
"The club fully acknowledges that Nicolas' goal celebration has caused offence in some quarters and has asked Nicolas not to perform the gesture again.
"Nicolas immediately agreed to adhere to this request.
"The club is aware that the Football Association is investigating the matter and has offered its full co-operation. The club will continue to make its own enquiries - a process which will remain confidential between the club and Nicolas.
"Nicolas is eligible for matches whilst the FA carries out its investigation.
"Therefore, Nicolas will remain under consideration for first-team selection whilst the FA and club continue their enquiries."
Nasri and Sakho have both performed the "quenelle" in the past and the Liverpool man said on Twitter in November that he was tricked into using the salute, saying: "I did not know the meaning of this gesture, I got trapped!"
Nasri wrote on Twitter on Monday that his "quenelle" pose in a picture that he posted two months ago "symbolises being against the system" and has "absolutely nothing to do with" being anti-Semitic.
"I apologise for causing any hurt to anyone who might have been misled into thinking this means anything of that nature," he tweeted.
Parker, the French basketball star, performed it three years ago alongside the comedian at the centre of the controversy, Dieudonne.
Parker released a statement on Monday which said: "While this gesture has been part of French culture for many years, it was not until recently that I learned of the very negative concerns associated with it.
"When l was photographed making that gesture three years ago, I thought it was part of a comedy act and did not know that it could be in any way offensive or harmful.
"Since I have been made aware of the seriousness of this gesture, I will certainly never repeat the gesture and sincerely apologise for any misunderstanding or harm relating to my actions."